News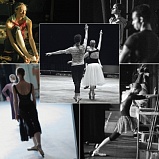 27.07.2017
'Summer of Ballet' photo festival
In the off-season, with theatrical productions finished for the time being, we invite ballet fans to visit the exhibitions being held as part of the 'Summer of Ballet' photo festival. The traditional ballet marathon is expanding beyond the limits of Arts Square and moving into exhibition halls and creative spaces around St. Petersburg with a collection of photographic stills. The festival will run from 25 July to 1 September.
Theorists suggest that an outstanding photograph can be achieved only when the subject is unaware that the photographer has them in his lens. To achieve such a thing in ballet would appear simply impossible, the artist's theatrical portrayal by default precluding any sense of naturalness. To lift the curtain a little and reveal the other side of the choreographer's art is perhaps possible only in a workshop devoted to the creation of the sublime. The images featured in 'Summer of Ballet' invite the viewer to take a peek backstage and immerse themselves in the daily routine of the rehearsal process. In so doing, they will gain an understanding of how, day by day, the dancers hone their art to perfection, the eternal measure of which is that illusion of ethereal weightlessness achieved before the audience's gaze.
Cinematography has taught us that the slowing or complete suspension of a moving image signals an oncoming moment of drama. In ballet photography, the effect achieved by this artistic method is all the more radical because ballet is the art of movement, the essence of which is revealed in the transition from one form to the next in a strict sequence of fleeting poses. Distilled in every image of ballet are climactic instances of the body in motion. Photographers capture the most vivid snippets of what the artist and choreographer are endeavouring to convey through the language of movement. The images of the artists frozen in these photographs appear flawless, much like classical references to the aesthetics of the human body.
Last season, the Mikhailovsky Theatre's ballet company was full of young artists. Each is a unique personality, but not all of their faces are yet known to audiences. The 'Summer of Ballet' photo festival showcases our company through a wide-angle lens, drawing attention in equal measure to our stars and to those just taking their first steps onto the stage. Throughout the summer, five remarkable photographic artists have been working at the Theatre on a daily basis: Sveta Tarlova, Valentin Blokh, Michael Brown, Alexei Kostromin, Sergei Misenko, and master of the moving image Ekaterina Bugrova. They are all very different, and the way they view ballet naturally differs too, which will make it all the more interesting to see the results of their work. This major photo festival will open simultaneously at four venues: the ARTMUZA Creative Cluster, the Palma Creative Space, and the conceptual project platform Au Pont Rouge.
The video created by Ekaterina Bugrova will reveal ins-and-outs of the project