News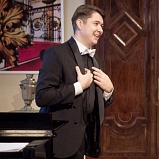 26.07.2017
Alexander Shakhov wins Georg Ots prize
A young Mikhailovsky Theatre opera soloist, Alexander Shakhov, has won a prize at the Georg Ots International Music Festival. At the beginning of next year, he will take part in a concert tour of the Baltic states.
"I've participated in international vocal competitions before, so I am very familiar with their emotional atmosphere, but this time the stresses passed me by", Shakhov explains. "During the first round, I was the third to sing. It was ten o'clock in the morning. I had prepared three pieces, but only managed to perform Figaro's cavatina. That turned out to be enough for the jury. Straight afterwards, I went to Lenfilm, where we have recently been rehearsing
Il barbiere di Siviglia
.
"During the second round, however, one song was not enough, and so I sang Hamlet's drinking song by Ambroise Thomas and Robert's aria from
Iolanta
. But all that took place in the short breaks between working rehearsals, which preoccupied me entirely. My mind was definitely back at Lenfilm. During the third round, I sang Silvio's aria from
Pagliacc
i, and Mister X's aria from
Die Zirkusprinzessin
by Emmerich Kálmán, one of the trademark songs of Georg Ots. There was no time to worry. For the same reason, I didn't manage to meet most of the participants in the contest until the gala concert, when the winners were announced. I was not, of course, able to talk to my colleagues at the competition, which I normally enjoy doing, but I am happy that the reason for this was because I was so busy with my work for the theatre."