News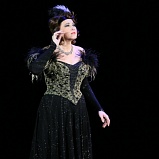 13.10.2017
At Home with the Gentry
On 22 October, the dress circle foyer will host a vocal chamber music performance entitled Home of the Gentry: Popular Music of the 19th and 20th Centuries.
"To get the full impact of music from this era, it is important that our 'drawing room' guests find themselves fully immersed in the atmosphere of a high-society salon," explains event director Olga Kokh. "Of course, candles burning in the chandeliers and antique furniture pieces will play their role. But much more important for recreating the authentic feel of a noble home is the close proximity between performers and the public. Notice I said 'performers', rather than 'actors': back in those days, people had a more natural approach to displaying their talents, without feeling the need to act out any deep revelations of pathos. In other words, they would create a warm, convivial atmosphere for each other in which to make music together. They didn't need makeup to transform into their characters. All they needed was one symbolic element of costume. These days, you can only glimpse this noble 'lightness of being' in books and on screen. We will be drawing on the latter directly: the concert will include the love song
Willows
from Andrey Konchalovsky's film based on Turgenev's novel
Dvoryanskoe gnezdo
(variously translated as
Home of the Gentry or Nest of the Gentry
).
"The grand piano is a character in and of itself: a genuine star of the evening, it completes our lines for us, or infects us with its mood," muses opera soloist Maria Litke. "Working in close collaboration with the pianist allows the singer to illuminate every nuanced emotion of the piece and fosters a reciprocal sensitivity to moments of improvisation. The salon atmosphere allows us to give our attention not only to the words, but to the shades of melody that, to my mind, are crucial when performing a love song. I believe our audience will get a sense of this in our rendition of
The Sincerity of the Shepherdess
from The Queen of Spades. Tchaikovsky borrowed the melody from Mozart's opera
Die Zauberflöte
, from Papageno's second aria. But we want to step away from the operatic scope of this piece and turn it into a play within a play, just as Tchaikovsky intended."