News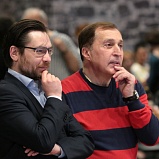 06.10.2017
Symphony concert featuring Paata Burchuladze
On 29 October, the Mikhailovsky Theatre symphony orchestra is taking to the stage of the Grand Hall at the St. Petersburg Philharmonia. Under the direction of Mikhail Tatarnikov, the orchestra and the current artistic director of the Mikhailovsky Opera, Paata Burchuladze, will be performing pieces by Mussorgsky and Franck. On the role that the Great Hall at the St. Petersburg Philharmonia has played in his creative life, Burchuladze had the following to say:
"I was first invited to perform in the Grand Hall of the St. Petersburg Philharmonia in 1982, when I won the International Tchaikovsky Competition. It was the first time that I had been invited to perform a solo concert, and it determined the future of my vocal career. The programme for that first concert, arranged together with my accompanist Lyudmila Ivanova, was warmly received. I sang Rachmaninov, Mussorgsky, Arensky and Glinka. Since then, we have travelled the world with this programme, and I have performed it in the most famous opera houses and concert halls across the globe.
"When the time came to start celebrating career anniversaries (the first anniversary I decided to celebrate was my 25th), the Great Hall at the St. Petersburg Philharmonia welcomed me and my guests with open arms. The Hall has hosted concerts in honour of 25, 30, and 35 years of my career. In particular, it has been a great honour to be part of concerts dedicated to the career of maestro Yuri Temirkanov. I wish him good health and longevity, and hope to sing in his honour for many more years to come. The upcoming concert at the end of October will be very special for me, as I will be on stage with the musicians of the Mikhailovsky Theatre, which welcomed me so warmly and generously and which has become a home away from home.
"Over the course of my career, two composers have to this day played a special role and they are Verdi and Mussorgsky. It is their music that I perform most often, and I would say that I really connect with it and understand it. For the upcoming concert, I chose Mussorgsky's
Songs and Dances of Death
song cycle. It would be hard to find a piece with a more "unfestive" title. On the other hand, it is also hard to find a deeper, more expressive score that you can really lose yourself in. To my mind, it is one of the greatest musical masterpieces of all time. I have performed it time and again with the some of the best orchestras and conductors: at La Scala in Milan in collaboration with Yuri Temirkanov; at the Salzburg Festival with Valery Gergiev; in Paris conducted by Myung-Whun Chung. This time we will be conducted by the wonderful, emotive, and sensitive musician that is Mikhail Tatarnikov. We are absolutely on the same wavelength and our rehearsals, which have already taken place as we began to prepare for this concert long before it was announced, were wonderful to be a part of."