News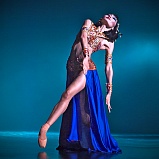 17.10.2017
The Great Steppe, Paris, & Ancient Egypt
On 16 November, the Astana Ballet will return to the stage of the Mikhailovsky Theatre. Our audiences will remember the recently-founded ballet company from Kazakhstan, after its first tour here in 2014. This year, the dancers from the vast expanse of the Great Steppe will be presenting a programme of three very different choreographic compositions. The gala evening will be held as part of the VI St. Petersburg International Cultural Forum.
The Astana Ballet is gearing up for its five-year anniversary next year. In this short time, the company has built an impressive portfolio of tours and performances, and has delighted audiences and ballet enthusiasts in China, Japan, Turkey, Brazil, Poland, Belarus, and Russia. At the gala evening in St. Petersburg, the company is expected to flaunt the full spectrum of its dancing skill and ability. The evening will open with the
Great Steppe Heritage
programme, which consists of several unique short dance acts and excerpts from other ballets with an added dash of national flair. All the dances are accompanied by classical adaptations of traditional Kazakh music, as well as by the music of modern Kazakh folk music groups.
The one-act ballet
Love Fear Loss
premiered in Astana less than a year ago. In this ballet, the well-known melodies of Edith Piaf, Charles Dumont, and Jacques Brel accompany the narration of Edith Piaf's life story. Directed by choreographer Ricardo Amarante,
Love Fear Loss
depicts through dance the defining events in the life of the great singer. Amarante graduated from the English National Ballet School and began his career dancing in the ballets of Christopher d'Amboise, William Forsythe, Hans van Manen, and Jiří Kylián. As a director and choreographer, Amarante has worked with the New York City Ballet, the Royal Ballet School Antwerp, and the Royal Ballet of Flanders. Amarante uses a rich array of expressive tools in his work, demonstrating the true breadth and potential of choreographic art.
The evening will close with
Cleopatra's Triumph
, an excerpt from the ballet Cleopatra, with music by Maurice Ravel. Produced by Russian choreographer Nikolay Markelov, this performance depicts the period in the life of the Egyptian queen when she was fighting with her sister Arsinoë for the throne. Markelov took great inspiration from Sergei Diaghilev; he thought about how Diaghilev would have arranged this performance and "what tasks he would have given his artists and choreographers".
"This is a very original and unusual interpretation of Ravel's music," says St. Petersburg ballet historian Olga Rozanova. "The climax of the ballet is truly stunning, with its crowd of dancers, immaculate timing, intense music, impressive formations and magnificent costumes. It truly is a thing of beauty."