News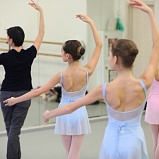 14.02.2018
The rising stars of Moscow
The ballet gala saw world-famous performers dance alongside young rising stars just beginning their professional careers. Twenty-four pupils from the Bolshoi Ballet Academy (Moscow State Academy of Choreography) took to the stage in the one-act ballet
Class Concert
.
Varvara Kuryatova, Alena Fonareva, and Makar Mikhalkin, who at just 12 or 13 years of age have already won international competitions, told us about their time in St. Petersburg. For the young artists, this performance at the Mikhailovsky Theatre was a very significant event. It is extremely nerve-racking to perform alongside the great masters, many of whom are idols and role models for the young stars. During rehearsals, Makar met Ivan Vasiliev, someone he has long dreamed of meeting. Varvara was delighted to be dancing with Victor Lebedev and Anastasia Soboleva. Like Varvara, Anastasia also studied at the Bolshoi Ballet Academy and took part in
Class Concert
as a child. For Alena, a cherished dream came true when she met Angelina Vorontsova and Leonid Sarafanov.
"We are very happy to be here for the anniversary celebrations at this wonderful theatre, a place which we are hugely fond of, and on whose stage we have performed before", said Dean of the Bolshoi Ballet Academy and People's Artist of Russia Marina Leonova. "Some of our students have won prizes at the Mikhailovsky Theatre Grand Prix, a ballet competition initiated by Vladimir Kekhman. Many graduates of our school will take to the stage today — not just Mikhailovsky soloists like Anastasia Soboleva and Angelina Vorontsova, but principal dancers from the Bolshoi, too. I would also like to point out that Mikhail Messerer is another former student of our ballet academy. Here we see the continuity between generations, which will be embodied by the performance of
Class Concert
, an Asaf Messerer production.
"I'm a supporter of ballet tradition and I believe that the future of the art will be determined by the respect we show to our predecessors, and how well we pass this respect on to those who follow us", said Mikhail Messerer, Artistic Director and Ballet Master in Chief of the Mikhailovsky Ballet. "I'm very grateful to my colleagues at the Bolshoi Ballet Academy for finding the time to join us during such a busy part of the school year."