News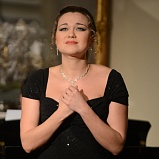 29.01.2018
A Chinese Honour
Opera soloist Svetlana Moskalenko has returned from the inaugural International Music Competition Harbin a prize winner.
The competition's vocal section consisted of three rounds, with Chinese-language compositions included in the compulsory part of the programme. Six contestants advanced to the final round. While the strict jury decided to withheld the first prize, second place was awarded to Svetlana Moskalenko, who performed several pieces: composer Ye Xiaogang's "Picking Mulberries", a concert aria by Wolfgang Amadeus Mozart, and an aria sung by the title character in Leo Delibes'
Lakmé
. Notably, during the performance of the Chinese song, the composer himself was present in the hall.
Guests at the Mikhailovsky's chamber concert "Musical Adventure through Countries and Continents", which was held on 2 December in the dress circle foyer, were treated to an opportunity to hear Moskalenko's rendition of the Chinese composition. She began preparing for the competition several months in advance, and this piece was included in the evening's programme so as to familiarize the soloist with such an unfamiliar language.
The inaugural International Music Competition Harbin was held in three categories: violin, piano, and voice. Musicians travelled from Russia, America, South Korea, Belarus, France, and Canada to compete.