News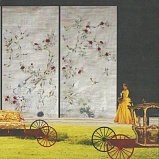 06.04.2017
Figaro Through the Eyes of an Artist
May will see the premiere of the opera production
Mozart. The Marriage of Figaro
at the Mikhailovsky Theatre. Artist Pyotr Okunev explains how the idea for the production's visual content was born.
I firmly believe that the set design should complement the music: not illustrate it, but enrich the emotions which the music elicits in the audience. Sitting in the auditorium, one experiences the production as a whole: the music, scenery, and direction. And so it is very important that the production team are guided by a single aesthetic vision.
We have worked with Vyacheslav Starodubtsev, the director of this upcoming production, many times, and we understand each other very well. In particular, we staged the opera Mavra for the Small Stage of the State Primorsky Opera and Ballet Theatre. Our last joint project was
The Queen of Spades
.
The Game
at the Novosibirsk State Academic Opera and Ballet Theatre in autumn 2016.
The set design of
Mozart. The Marriage of Figaro
uses motifs from the chinoiserie aesthetic, an offshoot of Rococo style, which is based on the artistic traditions of medieval China. The style was popular among the European and Russian aristocracy of the late 18th century. The central idea must be set properly into this elegant frame; in this opera, the central idea is the relationship between men and women. It's interesting, complex, ambiguous. There are many questions and no answers; only different interpretations and versions of answers. We have a video projection of two fish symbolizing the eternal conflict between man and woman. These fish are called Siamese fighting fish due to their combative nature. In Asia, they are traditionally made to fight in tournaments. The male and female Siamese fighting fish cannot be kept in the same aquarium: it tends not to end well. We use a screen which acts like a Chinese folding screen, another reference to Chinese theatre.
The production is brightly coloured, in the Eastern style, but some scenes are in black and white to provide a contrast. It is aesthetically attractive, and also very much in the spirit of Mozart. Some might consider this banal of me, but Mozart is my favourite composer. His music is light, sunny, incredibly airy, and deep at the same time. The protagonists of his operas are just as paradoxical. At first, they seem simple and easy to understand, but each has his or her own complex world, which the composer brilliantly expresses through his music. Figaro, for example, is a young man who is without doubt deeply in love, but at the same time he keeps his head; even when his feelings are in turmoil, he remains pragmatic and rational.
Pyotr Okunev is well known to Mikhailovsky Theatre audiences as the set designer for Antonín Dvořák's opera
Rusalka
. He created this production together with director Igor Konyayev in 2009.