Media about us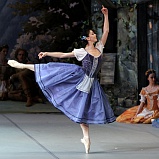 12.11.2014
Russian Troupe Poised for a Global Stage
When we think about Russian ballet, our minds inevitably drift to two companies, the Bolshoi and the Mariinsky. They represent a kind of yin and yang of Russian aesthetics, the cold elegance of St. Petersburg reflected in the extraordinary refinement of the Mariinsky ballerinas, the dynamism and bluster of Moscow in the large-scale dancing of the Bolshoi.
But they do not exist in a vacuum. Large troupes play "Swan Lake" on an endless loop across Russia; smaller ones survive and even thrive in Moscow and St. Petersburg. One of these, the Mikhailovsky Ballet of St. Petersburg, has lately seen its fortunes rise, propelled by the ambitions of Vladimir Kekhman, a Donald Trump-like tycoon who built his fortune on fruit imports. After discovering a sudden passion for ballet, he became the company's general director in 2007.
On Tuesday, the Mikhailovsky will begin a two-week run at the David H. Koch Theater at Lincoln Center, followed by three days in Orange County in California. A large contingent of the company's 140 dancers is coming, as well as its house orchestra. This will be its first visit to the United States. A high level of interest is assured by the presence of two blazing stars, Natalia Osipova and Ivan Vasiliev.
Recent reports about his bankruptcy petition notwithstanding, Mr. Kekhman has brought considerable sums into the once-ailing troupe (and the opera company that shares its home). His first major project was the renovation — paid for with his own money — of the company's neo-Classical home, with its elegant primrose-and-silver interiors. Before the Russian Revolution, French plays were performed there for the pleasure of the czar and his friends. (With just under 1,000 seats, it is about half the size of the Bolshoi.) Today, it once again lures a well-heeled crowd.
Mr. Kekhman has also attracted private and corporate money to supplement city subsidies — which have tripled under his tenure — ensuring his ability to produce lavish new productions and hire away top ballet masters and dancers. In 2011, he enticed the Spanish contemporary choreographer Nacho Duato to come onboard as director. (Mr. Duato has since departed, for Staatsballett Berlin, though he is still listed as choreographer in residence.) The company has traveled to continental Europe, Canada, Japan and, with increasing acclaim, to Britain. Morale seems high. "He is our Napoleon," one of the company's principal dancers, Marat Shemiunov, crowed via Skype, "a Medici for the Mikhailovsky."
Beneath the glamour, though, lies something much more interesting. The impresario's soundest decision was one of his first: hiring the highly respected teacher Mikhail Messerer as ballet master in chief. In a phone conversation, the veteran Financial Times critic Clement Crisp described him as "a man of refined tastes and extreme knowledge." If Mr. Kekhman is a symbol of the brash new Russia, Mr. Messerer is a microcosm of ballet's deep stylistic and familial roots.
Mr. Messerer's cousin Maya Plisetskaya was a Bolshoi star of the 1950s and '60s. His mother, Sulamith, and an uncle, Asaf, were members of an earlier generation of virtuosos, avatars of a new, dynamic Soviet style. Both starred (together) in the Bolshoi revival of "The Bright Stream," a Shostakovich farce choreographed by the innovative Fyodor Lopukhov and set on a collective farm. The ballet had debuted to great acclaim at the Mikhailovsky in 1935.
At the time, its resident company had become a laboratory for new operas and ballets, "iconoclastic, avant-garde experiments on subjects near and dear to the regime," according to the historian and musicologist Simon Morrison. In a typically macabre twist, "The Bright Stream" was later denounced by Stalin.
But the Messerer siblings also led casts of "The Flames of Paris," a Stalin favorite. With its scenes of brave men and women storming the Tuileries, it was a thinly veiled allegory of the Russian Revolution. Long neglected, "Flames" is enjoying a bit of a comeback. In 2008, Alexei Ratmansky created a new, ideologically ambivalent version for the Bolshoi.
Mr. Messerer's more straightforward 2013 reconstruction for the Mikhailovsky is based, to a great extent, on personal recollections of watching his mother and uncle dance it as a child. "Flames" is one of the ballets the company will bring to New York, with the explosive Mr. Vasiliev in the role of the pure-hearted revolutionary.
Under Mr. Messerer's watch, the company's repertory has honored the Soviet past while also maintaining the canonic 19th-century works and dipping a toe into contemporary dance. "It is difficult to progress without first understanding your own past," Mr. Messerer said in an email from St. Petersburg, "and we must make an effort to preserve the finest examples of Russian choreography."
In addition to "Flames," the dancers will perform the crowd-pleasing "Don Quixote" (mainly as a vehicle for Ms. Osipova and Mr. Vasiliev's bravura) and "Giselle," in a meticulous staging by Nikita Dolgushin. A triple bill combines Asaf Messerer's "Class Concert"— an idealization of the ballet class he taught at the Bolshoi — with the 19th-century Petipa curio "Cavalry Halt" and Mr. Duato's "Prelude."
The company's productions have been lauded for their clarity, liveliness and musicality. Mikhail Messerer teaches the company's morning class several times a week. "We take character dance and mime very seriously," he said. "And at the same time, I believe it very important to preserve pure academic traditions and a clean style of classical dance."
His "Flames" is filled with raucous folk ensembles, including a clog dance and a rousing Carmagnole. It's a style of dance that has become a rarity in the increasingly globalized world of ballet. More recently, the company has been able to attract promising young dancers early on in their careers, like the elegant Victor Lebedev (a recent graduate of the Vaganova Academy) and the Bolshoi-trained Anastasia Soboleva. The troupe has also provided a safe haven for Angelina Vorontsova, the Bolshoi beauty whose boyfriend was convicted of orchestrating the acid attack last year against their former boss, Sergei Filin. Mr. Messerer likened Ms. Vorontsova's dancing to "sparkling wine."
Little by little, the Mikhailovsky is beginning to look like a viable alternative to its larger rivals, particularly in this period of artistic retrenchment. Its size and relative independence have allowed it to carve out an identity all its own. Well funded and guided by the steady hand of one of ballet's most respected conservators, the Mikhailovsky seems ready to take on the world.