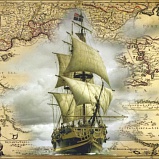 14.07.2015
Reception for première of Le Corsaire
In September, the Mikhailovsky Theatre will unveil the main ballet première of the new season — Le Corsaire. This romantic, oriental masterpiece, first performed in Russia in 1858, has been returned to the repertoire by Ballet Master in Chief Mikhail Messerer. The ballet, inspired by Byron's poem, tells the story of the love a pirate and a beautiful slave-girl have for each other. "Ballet productions live on when they are revisited", Messerer believes. How new life has been breathed into this old masterpiece will become clear on the opening night of the 183rd season on 8 September.

In anticipation of this long-awaited event, we are delighted to invite Friends Club members to a reception as part of the lead-up to the première. Mikhail Messerer, along with Andrey Kuligin, Manager of the Ballet Company, will explain how the artistic and technical aspects of the production are progressing, and demonstrate sketches of the costumes and models of the scenery.

The reception will be held at 19:30 on 16 July.
Please confirm your attendance by emailing the Friends Club Manager at: friends@mikhailovsky.ru.