Piano duo of Katia and Marielle Labèque
Winter International Theatre Festival
12+for viewers over 12 years old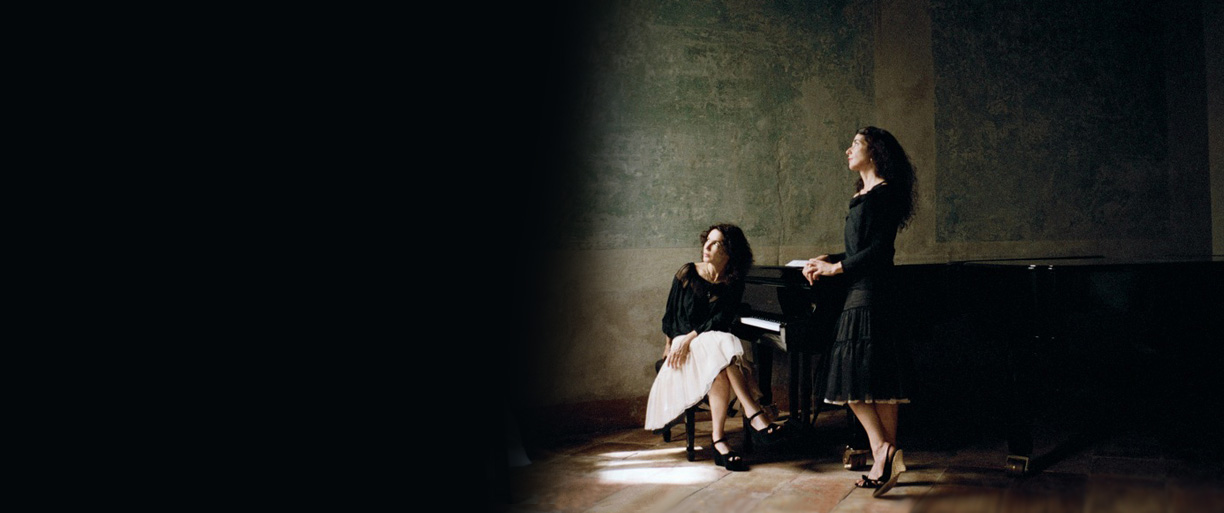 Artists

Katia and Marielle Labèque
Producing magical performances with four hands, the two sisters, Katia and Marielle Labèque, form one of the most famous piano duos in the world. These two French women with Basque roots have been performing together for over 30 years, and they complement each other perfectly. Katia is full of energy and emotion, while Marielle is calm and romantic.
They inherited their love of music from their Italian mother, a professional piano teacher. Playing a piano duet is not easy. The sisters have mastered a certain invisible skill: they have learned to breathe in unison and to feel the same rhythm.
Born in the small French town of Hendaye, the sisters absorbed both Basque and their native French culture before attending the Paris Conservatoire, from which they graduated with honours.
Elegant and graceful, they were perhaps born a little after their time (the time when musicians could rise to fame in luxurious salons). And, perhaps, that is why they did emerge in a musical era characterized not only by the repertoire of the 'glorious past', but also a repertoire that is usually just referred to as 'modern' music. They achieved fame not in salons, but on the stages of concert halls and in recording studios.
The duo's first recording, Rhapsody in Blue by Gershwin, which was released by Philips, became a gold record, and their first concerts earned them numerous invitations to participate at prestigious festivals in Berlin, London, Edinburgh, and Lucerne, as well as at special piano festivals in the Ruhr, Rheingau, and Schleswig-Holstein. Soon thereafter, the fame of the duo, who command a phenomenal finger technique and a refined performance style, transcended the boundaries of Europe: Katia and Marielle performed far away in Asia: in Hong Kong, Kuala Lumpur, and Macau, where local audiences were perhaps accustomed to different musical motifs. However, no one could resist the piano music of the French sisters.
The music was not only classical (Mozart, Brahms, and Tchaikovsky), but also taken from jazz (Gershwin and Bardac). Gradually, the duo acquired a genuine passion for early music, which resulted in a series of concerts focusing on the works of composers of the eighteenth century. The works of Johann Sebastian Bach occupy a special place in the creative output of the Labèque sisters. Their recordings of Bach include the video disk, The Italian Bach in Vienna.
The duo's musical energy has also been channelled into chamber music. Not so long ago, the Labèque sisters founded a chamber music ensemble, which includes the young musicians Marco Postinghel, Pascal Moragues, Herbert Mayr, and others. The ensemble has already toured in Spain, Belgium, and France.
The older sister, Katia, has a unique ability to manifest her talent in a multitude of ways: she has founded her own music group together with composer Dave Maric and drummer Marque Gilmore, which performs pop music. Katia is currently working on a new project, B for Bang, which features songs by cult group The Beatles. Katia is also working on a solo album, Shape of My Heart, which is the result of her collaborations with Sting, Herbie Hancock, Chick Corea, and Gonzalo Rubalcaba.
Marielle shares her sister's creative aspirations, so in 2013 the duo launched a new project, The Minimalist Dream House, inspired by the controversial 1960s.
According to the famous pianists, such projects reflect their desire to build a bridge connecting all aspects of contemporary art.
The sisters perform with leading orchestras from around the world, including those based in Berlin, Cleveland, London, Chicago, and Vienna. The Labèques also play for television channels including NDR, WDR, and ZDF (Germany), AVRO (Netherlands), and CBS (USA).
This amazing duo has audiences throughout the world.
www.labeque.com