News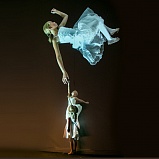 05.03.2019
Too good for a flawed world
Andriy Zholdak's production of Iolanta is a departure from the ordinary classical canon. True to his own rule, the director has made no comment on his concept It is all the more interesting, then, to hear the opinions of the two performers of the title role, who are responsible for conveying Zholdak's intentions. Maria Litke and Tatiana Ryaguzova threw themselves into preparing for the role over weeks of rehearsals before the November premiere. And even though the excitement and emotion of the premiere have not yet quite faded away, the singers agreed to discuss their interpretation of the character and the production as a whole. The next performance of the new Iolanta will take place on 19 March.
Tatiana Ryaguzova
"Andriy Zholdak never tells you anything in rehearsals. You can't just go up to him and ask, 'What's she supposed to be conveying here?' He collaborates with the performers on an intuitive level; you either feel it or you don't. He just chooses a direction and moves off in it, and the performer has to figure out what that direction is. At first, I kept involuntarily thinking back to our work on Onegin and drawing parallels. I thought the two productions would be similar — same director, same style — but gradually I came to see that they are very different, even though they're both very subtle, beautiful and bright.

Stylistically, Iolanta is quite cinematic, and the video sequence plays a hugely significant role. The scenes where the performers are silent and which are woven into the musical fabric of the opera are very important. It's impossible to pick apart the detail of how it works. Perhaps it's a controversial device, but you cannot but feel that this is a profound production. During rehearsals, there were times when I had a lump in my throat and couldn't hold back the tears. I had the sense that I was experiencing something transcendental, something beyond the bounds of our world. Audiences can't treat this production simply as entertainment. It's a metaphor, very complex in terms of its meaning and composition. You can't grasp all of its layers straight away. You have to want to think about it.

This is how I understand it myself: Iolanta is too good for a flawed world, a world which is not worthy of her. Pure of spirit and wounded, she cannot and will not accept that world. What she sees with her inner vision is much subtler and more important than what she sees with her eyes when she regains her sight. That's not her world. What she eventually sees is not what she had imagined. Was she blind? Or do we all seem blind to her, perhaps?
On the subject of purity, before this production, I never had the slightest inkling of how much there is to hear in this opera of Tchaikovsky's. I used to think there was no way it could bear comparison with Eugene Onegin or The Queen of Spades; I was obviously still too young. Perhaps it's a rather daring parallel to draw, but now I interpret Iolanta as an extension of the person of Tchaikovsky himself. The composer saw himself in Iolanta. This is his final opera; he is rethinking his values and searching for higher meaning. Perhaps he sees in Iolanta the ultimate spiritual ideal which he would like to live up to.

The production covers a few different points in time, and my heroine takes on several visual manifestations. For instance, the music lesson scene is from Iolanta's childhood. Iolanta is played not just by an adult, but also by girls of various ages. I find it difficult to be objective, but I'm in love with these young performers. I don't even try and analyse how we interact, how we copy each other's movements from different sides of the mirror. They just give me goose bumps; I get these strange, magical sensations.

The children's roles in the opera are very important. They say it's impossible to deceive children. With some directors, they clam up, and that's it; with others, they want to work and don't get tired. There are several children performing in Iolanta — two groups, in fact — and nobody has clammed up. You get the feeling that there was no need to rehearse with them at all. They just came on set and grasped everything straightaway, despite the fact that there are some challenging moments — they're not just chasing around the stage. There are scenes which have to be accurate to the centimetre, the kind of thing which would drive an adult round the bend, and yet they wanted to take part in it so muchy and were just awed by it all! Now, they're counting down the days until the next performance. That's a good sign. It means this is something real."

Maria Litke
"I think Iolanta is ahead of our time. Even though the production has been staged in our city, where audiences (particularly the Mikhailovsky's audiences) are open to contemporary trends and less conservative, after the first few performances I had the sense that the public wasn't ready to venture beyond the classical concept of the opera.

We tend to think of Iolanta as an angelic beauty. According to the libretto, she catches the imagination of a young man, who sees her quite literally as an angel from heaven. Nowadays, we often call people who are somehow different 'angels' or, to use a term from the past, people with disabilities, including autistic people. They live by their own rules, in their own world, and if they interact with the outside world at all, it's only with great effort.

As our director understands it, Iolanta is a girl apart. At times she's a sleepwalker; at other times, she's autistic. She lives in her own world and tries to make that world correspond with the outside world where her father, who maintains contact with the rest of society, lives. He's an ordinary person but sees a great deal which is odd about his daughter and senses a sort of magic within her. As for the two young men who appear in their house, I have doubts about whether that actually happens in reality or just in my character's imagination. Perhaps she's fallen asleep and sees two young men coming to visit her, then enters into that dream and continues her life inside it. That's how her world works. We don't know whether she's asleep or awake at the time, but all her life unfolds in her head. You want to ask: does Vaudémont actually exist? She may have just imagined him — with wings and a bow like Cupid, the god of love. Various characters spring up in her imagination and happily coexist without any arguments or dramatic conflicts.
Iolanta is very similar to the heroine of the German film
Barefoot
. For example, she can't bear to be touched. In the film, there's a scene where the heroine goes to some sort of society event and somebody tries to dance with her, and she screams and falls to the ground in a faint, shocking everyone. Again, that's the kind of problem a girl with autism who doesn't want to venture outside the boundaries of her own world would have. It's difficult to say whether that's what Tchaikovsky's opera is about. We know from his letters that when he was writing
Iolanta
he kept reflecting on divine and earthly love. It was a subject he gave a lot of thought to, and it shows up in our production too — but this isn't exactly a canonical reading of the opera.
Our production hints at the fact that Tchaikovsky too only ventured outside his own world unwillingly. If you read his correspondence with Nadezhda von Meck, it becomes clear that it took a great deal of effort for her to drag the composer out of his inner refuge. Without her he may well never have written most of what he wrote. He couldn't exist in the ordinary world either; he was like a child. Andriy Zholdak sensed the link between this facet of Tchaikovsky's character and Iolanta, and wanted to emphasise it: that purity and childishness (not to be confused with infantility), the directness of their outlook on the world, which is neither banal nor quotidian, but the kind of outlook which seems to take in the whole of the world in its entirety.
Surprisingly enough, children and teenagers really take to our production. It includes a lot of the kind of thing you find in contemporary films, and they pick up on that. Thanks to the video, it's visually multilayered, and there's this illusion of magic. Just like our Iolanta, children often have made-up friends who they play with in their imaginations, so they immediately understand why she's playing with her reflections in the mirror. Children learn about the world around them, and about themselves, through the mirror. Iolanta is admittedly supposed to be a young woman already, but her world is fundamentally very childlike, bright, and playful. She always wants to be inside some picture or another; she travels through different worlds. In her imagination, people are angels with wings, but in reality, they're not angels at all. She sees their inner aggression, even though she herself lives in the 'Golden City', like in Boris Grebenshchikov's song."