News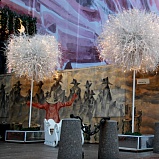 29.12.2016
The theatre takes to the street
Temporary construction fencing covering the facade of the Mikhailovsky Theatre during restoration work has been turned into a canvas for an allegorical artwork.
The 'fencing fresco' will provide passing citizens with a glimpse into the secretive backstage world of the theatre. The fresco is the creation of young Nizhny Novgorod artist Andrey Olenev. In Andrey's vision, the hero of the work is a mysterious wanderer — a sorcerer, perhaps — or a travelling musician or poet. The path travelled by our hero marks the boundary between the everyday landscape of the city and an enchanted, theatrical realm. The composition adorning the fencing will consist of three independent sections, facing onto Arts Square, Inzhenernaya Ulitsa, and the Griboyedov Canal Embankment respectively. Each section will tell its own story. The fresco will contain elements resembling windows. Passersby will be able to peer through these gateways and behold some of the theatre's many secrets lurking within. Stands promoting the theatre's playbill have also been incorporated into the fresco.
In 2015, Andrey Olenev joined the longlist for the Kandinsky Prize in the Young Artist: Project of the Year category. He is also a regular participant in contemporary art exhibitions and biennales, including the second Artmossphere Moscow Street Art Biennale and the Remember Tomorrow exhibition in St. Petersburg.


The project is being undertaken in partnership with the Novoye experimental collective.

Supported by: