News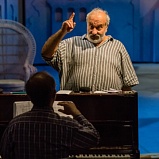 06.09.2017
Revenge, love, and the human happiness of Bartolo
The Marriage of Figaro and Il barbiere di Siviglia, two operas premiering this year, make up a pair of works, united by characters who feature in both. Karen Akopov, Honoured Artist of Russia and the honoured Bartolo of the Mikhailovsky Theatre, explained what it is like to play the same protagonist in two different operas.
"The plays of Pierre Beaumarchais form the narrative basis for these operas. The stories told in them take place several years apart. During this time, the protagonists change, and therein lies the difficulty. I first got to know Bartolo through Il barbiere di Siviglia, which our theatre has staged four different times, both in Russian and in Italian. Another Bartolo in my list appeared in the St Petersburg Conservatory production. And I did my best to make the character funny every time, creating a funny walk and gestures. That is how I saw him: when Bartolo walks out on stage, the audience immediately breaks into laughter.
"But this year, I played Bartolo in
The Marriage of Figaro
for the first time, which helped me very much to understand him more profoundly. Rossini's and Mozart's Bartolo is the same person, and he is more complex than a purely comical character. During the time which passes between
Il barbiere di Siviglia
and
The Marriage of Figaro
, Bartolo undergoes a deep transformation.
"So what makes him different? In
Il barbiere di Siviglia, Bartolo
is driven by his love for Rosina. That was something I did not realize previously. He thinks that he has cultivated a future wife for himself. I mean, she has little in terms of inheritance; she is not a rich woman. Everyone thinks that he wants to marry her for her money, but that's not the case at all. He loves her, despite the fact that she calls him old and ridiculous to his face. And he, of course, hates Figaro, even if he does subconsciously feel that this is his son.
"For Mozart, Bartolo's driving force is revenge: he wants to take revenge on Figaro, who tries to deceive him once again, along with his former bride-to-be. His main aria focuses on revenge. His feelings of love have dissipated. And I think he has little hope left of finding happiness, until a skeleton falls out of the closet. It turns out that he had an affair with Marcellina 20 years before
Il barbiere di Siviglia
. Fate brings him a gift, and finally, he gets a family, which he was not able to start in Siviglia. Of course, I am happy for my character, who has been with me for so many years now. And now in
Il barbiere di Siviglia
, I want to make him the kind of man who, in the end, seeks ordinary human happiness."