News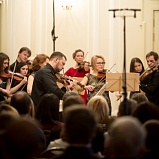 04.10.2018
Dialogue Across the Years: A Chamber Concert
A concert entitled
Chamber Music Through the Ages: Dialogue Across the Years
will take place on 13 October in the foyer of the dress circle. The programme will bring together pieces for chamber orchestra from various eras. The evening will begin with a performance of the typically baroque
Concerto Grosso No. 8
by Arcangelo Corelli, transporting the audience to the 17th century. This piece was commissioned by Cardinal Pietro Ottoboni, and is known throughout the world as the Christmas Concerto. At the heart of the concerto is a motif which was taken by Corelli from a
Christmas chorale
. Every movement of the piece takes up this motif, but with all sorts of modifications to its tempo, its rhythm, or the progression of the melody. Beneath the title of the piece, the score contains the inscription "
Fatto per la notte di natale
", which, when translated literally from the Italian, means "
created for Christmas night
".
The evening will continue with Leoš Janáček's
Idyll,
one of the earlier works of the Czech composer. Janáček's music reflects the ideas of romantic nationalism circulating in 19th century Europe, and his
Idyll
is a tale of his native country, full of personal sentiment and love of the land.
The programme will close with Samuel Barber's Adagio for Strings. This piece was written for quartet in 1936, and then orchestrated and performed to the general public in 1938 in New York, with none other than Arturo Toscanini wielding the baton.