News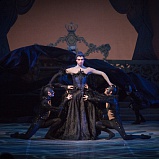 19.07.2016
A season of firsts: Adrian Mitchell
One of the most striking debuts this ballet season was that of Adrian Mitchell, who played the role of Carabosse. In order to play the part of the wicked fairy, he read about the three witches from Macbeth as well as Baba Yaga (a witch in Russian folklore). Just a year ago, the young American dancer could scarcely imagine taking up roles like these on the Russian stage.
"America isn't like Russia. There aren't so many ballet schools and ballet isn't so big there. I largely chose Russia because the repertoire is much more varied. I had imagined myself dancing a role like Crassus in
Spartacus
. When they told me I'd be dancing Carabosse, my first reaction was one of alarm. I mean, I'd have to play a woman on stage! I couldn't even imagine doing that.
"I was born in Dallas, Texas, in the suburbs, but grew up in Los Angeles. My parents were athletes and played basketball. But sports didn't really do it for me. Still, I had all this energy that needed an outlet, and I liked being on stage, so ballet was the natural route to take. I started doing ballet when I was nine, but I would often take breaks or only have lessons once a week until I got into the Westside School of Ballet in Los Angeles. There I studied under Yuri Grigoriev. Then I moved to New York to study under Gelsey Kirkland, who's a well-known ballerina in America. I spent two and a half years there. The training was quite intense and we were taught under the Vaganova method.
"When I was 21, I started getting offered work in America. Then at a ballet gala performance in Florida, Oleg Vinogradov came up to me by chance and said "Why don't you come study in Russia?" So basically, I made up my mind, and went to Vaganova Ballet Academy the following year.
"It was tough at the academy, and not even because of the strict discipline (which I'd already gotten used to in America). It was other things. There were more students, and of course, a greater number of talented students, which meant more competition. And I didn't speak Russian. I had to get used to the raked stages. We don't have them in America. So it was a pretty tough time for me, but it was also absolutely amazing. I studied there a year.
"Nikolay Tsiskaridze really pushed me to improve. He's a terrific teacher, pays a lot of attention to his students, and comes to classes himself. He taught us musicality: how to move in harmony with the music. As a dancer, that gives you incredible strength. Tsiskaridze taught us a great deal, of course, but what I remember most were our classes in musicality.
"When I auditioned and was admitted to the Mikhailovsky Theatre, no one promised me anything. I couldn't even entertain the thought of getting a solo role. And actually I think things didn't really go according to plan. It all started with the Nacho Duato's ballets. First I did
Duende
, and then I got a solo role in
Multiplicity
. Now I am doing Carabosse.
"When they offered me Carabosse, I didn't come round to it immediately, but then realized I really wanted the role. It felt so strange that my next role would be playing a female. To get to grips with it, I began studying the subject. I read about the three witches from
Macbeth
, Madge, the witch from
La Sylphide
, and even Baba Yaga. This gave me material to work with, and I incorporated all those stories into my interpretation of Carabosse. I was looking for details and subtleties. And ultimately, I became Carabosse. She is my fairy: young, beautiful, powerful and very stylish. She's a diva. It wasn't easy as her, but I worked on it, and it all turned out well in the end.
"I have borrowed a lot from Farukh Ruzimatov, but I wouldn't say that I took anything from his portrayal of Carabosse. We are very different: we have different plastique. We move differently. Ruzimatov was one of my teachers at the academy. I had heard of him before I came to Russia, I mean, he's a world famous dancer. Everyone knows who Farukh Ruzimatov is. He's a legend, he's inspirational, and it's simply impossible not to be influenced by him. For me, sharing a stage with him was something out of the realms of fantasy. I still feel a little nervous alternating with him: one evening he's Carabosse, and the next it's me.
"I didn't work with Nacho Duato — he never told me what to do and what not to do. I've never even met him. But his work really influenced me. I've watched recordings of
The Sleeping Beauty
many times. Rishat Yulbarisov gave a wonderful rendition. After all, he was Carabosse from the first cast. But in the end I'm not Rishat. I'm me, and my Carabosse is my own.
"My dream is still to play Crassus in
Spartacus
. I watched recordings with Maris Liepa and Vladimir Vasiliev in the production by Yuri Grigorovich — their work is astounding. Of course I wanted to come to Russia and study at the same school. I'd also love to play Espada in
Don Quixote
and Tybalt in
Romeo and Juliet
."