News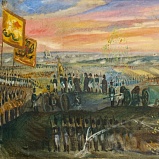 19.03.2018
War and Peace. Part of a 100-year history
Opera History in One Production
is the title of a new exhibition which opens in the Dress Circle Fireplace Hall on 21 March. The exhibition is devoted to legendary opera
War and Peace
. The first to see the exhibition will be those attending the gala concert to mark the centenary of our opera company.
Renowned director Boris Pokrovsky's production of Sergei Prokofiev's opera
War and Peace
was conceived as an epic in two parts and was created in the post-war years: the première of the first part took place on 12 June 1946. The production was a colossal success and became virtually a permanent fixture in the theatre's repertoire. The première of the second part in 1947 was cancelled, however, when, in the wave of persecutions of Soviet composers, the Khudsoviet (the state appointed art commission) accused Prokofiev of formalism. Audiences would see the production in a new, shortened version only in 1955, after the composer's death.
The production of the first part of
War and Peace
once again confirmed the Maly Opera Theatre as the "laboratory of Soviet opera" (a title bestowed on it in the 1930s), prompted audiences to reconsider the relationship between the artist and the authorities, and provided a new impetus to the development of director-led opera and ballet, of which the Maly Opera had also been one of the initiators. All of this gives us the opportunity to examine, as it were, the entire 100-year history of our opera company through the story of one production.
Those who have worked on the production include conductor Samuil Samosud, eminent stage designers Vladimir Dmitriev and Teodora Shorr, and ballet master Boris Fenster. The stars of première performances have included artists of various generations: Tatyana Lavrova, Pavel Zhuravlenko, Oles Chishko, Sergey Shaposhnikov, Antonina Stupalskaya, Nikolay Butyagin, Vyacheslav Runovsky, and many others.
The exhibition will feature the original sketches of Vladimir Dmitriev and Teodora Shorr, photographs, posters, and an excerpt from the minutes of the Khudsoviet meeting in 1947, among other original exhibits.