News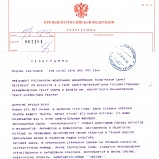 20.03.2018
Vladimir Putin congratulates Mikhailovsky Theatre
Russian President Vladimir Putin has congratulated the Mikhailovsky Theatre on the 100th anniversary of its opera company.
Dear friends,
Exactly one hundred years ago, way back in 1918, your theatre's opera company was founded and a new chapter in its history began.
I offer my whole-hearted congratulations to you on this wonderful anniversary.
The legendary Mikhailovsky stage holds the memory of a galaxy of artists and musicians, conductors and directors, and mentors and educators, whose talent and efforts over the decades have made a unique contribution to the development of our culture.
Today, this beautiful old building on Arts Square houses a concentration of bright, creative talent, staging performances of classic Russian and international productions whilst also bringing to life bold and original projects, and lighting the stars of tomorrow.
I am confident that you will continue to safeguard our precious traditions and to enhance the renown of Russian theatre.
I wish you every success in the future, and hope that you will continue to enjoy spectacular premières and inexhaustible inspiration.
V. Putin