News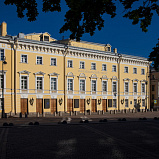 20.06.2023
Tickets for the New Season
As we approach the end of another theatrical year, we have already opened ticket sales for the upcoming season.
September at the Mikhailovsky Theatre will be as vibrant as the palette of autumn foliage. The heroic ballet Spartacus, which has traditionally inaugurated the ballet season in recent years, shares the playbill with the dazzling Le Corsaire and the lyrical Swan Lake. Youthful vigour are supplied by The Little Humpbacked Horse and Cipollino. In the opera repertoire for September, we proudly present the quintessential St. Petersburg production, the mystical The Queen of Spades, which has graced our schedule for 40 years.
Stay updated with our news to hear about your favourite stars and new talents, timeless productions, and impressive novelties!