News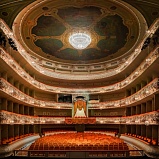 25.04.2018
Tickets and subscriptions
Dear patrons,
We are delighted to announce that tickets for performances from September to December are on sale. They can be purchased at the box office or on our website.
Our 186th season will open on 7 September with Aram Khachaturian's legendary ballet Spartacus, choreographed by Georgy Kovtun. This production proved hugely popular and is now returning to the stage. To mark the tenth anniversary of the production, the ballet will be performed ten times between September and December. The opera season will open on 11 September with La Juive by Jacques-François-Fromental Halévy. The exciting, dramatic plot, breathtakingly beautiful music, and sophisticated set design have brought the production critical acclaim and made it an audience favourite. It features an array of outstanding singers.
Subscriptions for the first part of next season are also available at the box office. As is traditional, we are offering subscriptions for children as well as seasoned theatregoers. Full details of the subscriptions can be found on
a special page of our website
.
The date when subscriptions can be purchased via the website will be announced later.
We apologize for any inconvenience this may cause. We understand that not everyone is able to come to the theatre in person, but for those who do, there are two ticket windows — one for cash payments, the other for payment by bank card. Extra seating will also be available in the foyer for our customers' comfort.