News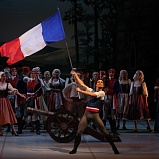 14.11.2017
The Mikhailovsky Theatre on tour in Beijing
As part of the China International Ballet Season, the Mikhailovsky Theatre Ballet Company will perform in Beijing from 17 to 19 November. The performances will take place at the Beijing Tianqiao Theatre — the first theatre to be built after the founding of the People's Republic of China. The tour programme includes
The Flames of Paris
and
Giselle
.
The tour will bring together the company's leading dancers, including Ekaterina Borchenko, Angelina Vorontsova, Ella Persson, Anastasia Soboleva, Ivan Vasiliev, Ivan Zaytsev, Victor Lebedev, and Marat Shemiunov.
Artistic Director of the Mikhailovsky Theatre Vladimir Kekhman comments: "The Mikhailovsky Ballet's regular tours mean that it is already well known in the West, and is becoming increasingly recognized also in the East. After a successful tour in Hong Kong, the company was invited to perform in China's capital. For our first visit to Beijing, we chose to perform a couple of established tour favourites:
Giselle
and
The Flames of Paris
. They show the wide range of our capabilities, from refined romantic style to revolutionary heroism. I am confident that our artists will prove worthy representatives of the art of ballet before their Chinese audience, who have lately begun to express a serious interest in the traditions and achievements of Russian culture."
In his production of Adolphe Adam's Giselle, ou Les Wilis, Nikita Dolgushin managed to carefully recreate the old choreography of Jean Coralli, Jules Perrot and Marius Petipa. This Mikhailovsky Theatre production has already travelled to London, New York and Tokyo. Mikhail Messerer paid tribute to Vasily Vainonen's original choreography in his revision of Boris Asafiev's The Flames of Paris. The production has previously delighted audiences in New York and California.


Every year, the China International Ballet Season draws ballet enthusiasts to Beijing from all over China. In previous years, guest companies have included the Bolshoi and Mariinsky theatres, as well as major European and American ballet companies.