News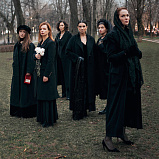 26.05.2023
The Gorky Moscow Art Theatre is visiting the Mikhailovsky Theatre!
Yesenin's Women
is one of the theatre's seminal plays, already seen by around 70,000 spectators in Moscow, St. Petersburg, and Novosibirsk since its premiere. On August 1st, 2nd, 3rd, and 4th, Yesenin's Women will grace the stage of the Mikhailovsky Theatre.
A poet is not simply someone who writes poetry, but someone who pays for it with their destiny. And Sergei Yesenin's destiny constituted an eternal quest for happiness and perpetual disappointment.
Yesenin experienced several profound romances in his life, most of which ended tragically. He dedicated his poetic verses, now considered classics of Russian poetry, to his beloveds. However, he struggled to maintain a long-lasting affection for a woman. Each romance primarily served as a wellspring of creative energy for Yesenin. He pursued love yet also fled from it, sought solace from loneliness, and yearned for solitude.
Who were these women in Yesenin's life? Whom did they love — the brilliant poet? The angel with golden tresses? The mischievous carouser? How did the relationship between Yesenin's parents and the dramatic turns in his mother's life resonate in his adult years, and in his relations with his beloveds? This aspect of the poet's work is herein explored for the first time.