News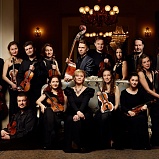 21.03.2019
The Chamber Orchestra at Jaani Kirik
The Mikhailovsky Theatre Chamber Orchestra invites all music lovers to a concert in Jaani Kirik on Dekabristov Street on 18 April.
"For this concert, we have chosen well-known works such as Felix Mendelssohn's Concerto for Violin and Piano and Josef Suk's Serenade for Strings, as well some rarely-performed works — Johann Christian Bach's Viola Concerto in C Minor and Max Bruch's
Kol Nidrei
," says the orchestra's leader Alexey Lukirsky.
The Mikhailovsky Theatre Chamber Orchestra is a young ensemble which is already making a name for itself, adding new colours to St. Petersburg's already varied concert palette. The musicians, whose professional activities are primarily linked with classical opera and ballet, cultivate vivid imagery and richness of style in their chamber performances. The orchestra's repertoire spans music of various ages, from baroque and classical to avant-garde. Their home remains the Mikhailovsky Theatre, but the artists are now branching out into new venues. The orchestra is led by Alexey Lukirsky, who plays first violin in the Mikhailovsky Theatre Orchestra. A graduate of the Moscow Conservatory and winner of international competitions, he is enormously experienced and indefatigably creative.
"Our orchestra brings together talented performers, graduates of leading music colleges," says Alexey Lukirsky. "We try to ensure that each of our programmes has its own tone and its own idea, and that the musicians combine a sense of ensemble with an awareness of their own individuality."