News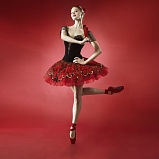 06.05.2019
Stars come out for Don Quixote
Don Quixote
is one of the most vibrant ballets in the classical canon. The principal roles in this ballet are a fantastic opportunity for dancers to show off their virtuosic technique. Tradition permits the performers to come up with their own unique portrayals of their characters. The heroes can be straightforward or cunning, romantic or flirtatious, profound or frivolous — everyone has their own interpretation.
This June, world-renowned stars of the ballet firmament will conjure up an atmosphere of festivity, unbridled merriment, and sizzling Spanish passions for our audience. Kitri and Basilio will be danced by Angelina Vorontsova and Igor Tsvirko on
6 June
, by Ivan Vasiliev and Maria Vinogradova on
7 June
, and by Polina Semionova and Ivan Zaytsev on
8 June
.