News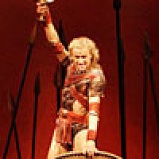 12.06.2008
"Spartacus"
29 and 30 April, the Mikhailovsky Theatre presents "Spartacus" , the original version of the ballet by Aram Khachaturian choreographed by George Kovtun.
The Mikhailovsky Theatre presents a new version of the famous ballet by Aram Khachaturian. The choreographer George Kovtun created his own libretto — a tremendous story about Spartacus, a brave gladiator, and his beloved Valeria; Crassus, a Roman commander and Sabina, a cunning hetaera... With elaborate gilded sets and matching gold costumes and an onstage opera chorus "Spartacus" is a full-length extravaganza. The choreography from start to finish is a great show — high, stage-sweeping jumps, difficult lifts. Another attention magnet is the live tiger brought onstage first in a cage, and then by leash, which adds a Roman feel to the rest of the ancient atmosphere. "Spartacus" is a real magnet for public.
"To stage "Spartacus" for a choreographer is like to perform the role of Hamlet for a dramatic actor. "Spartacus" is not a made-to-order performance; it was the order of my heart. I waited for a chance for twenty years. And today, when I have an opportunity to realize the dream, I will do everything to fulfill everything I was dreaming about. The most important is to convey the atmosphere of the era and to achieve the scenic truth, which should help in conveying the idea".
George Kovtun, choreographer of "Spartacus"

"Today this significant ballet is known to the public only by its Moscow version of 1968 by Yury Grigorovich. The Mikhailovsky's production of "Spartacus" is a unique one not only because of its extreme difficulty. The special thing about the version is that it was created especially for the Mikhailovsky ballet company.
A major thing for ballet is coaches. The birth of new, dynamic artists is connected with academic tradition. The indispensable part is interaction between young soloists and experienced dancers right on the stage. The continuity is extremely important for the ballet. That is why the participation of such experienced people as Alla Osipenko and Nikita Dolgushin is an important part of the performance".
Farukh Ruzimatov, artistic director of the Mikhailovsky Ballet