News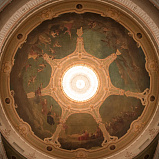 13.09.2022
September's Theatre Programme
On 8 September, the Mikhailovsky Theatre opened its 190th season. The first opera of the year was Giuseppe Verdi's
La traviata
, while the ballet season opened with Aram Khachaturian's ambitious
Spartacus
on 9 September.
This ballet-filled September will not only delight experienced theatre-goers, but is also perfect for a first introduction to the world of choreography.
The Little Humpbacked Horse
(11 September),
Romeo and Juliet
(14 and 15 September),
The Sleeping Beauty
(21 and 22 September), Cinderella (24 and 25 September), and
Swan Lake
(28, 29, and 30 September) will feature the Theatre's leading soloists: Ekaterina Borchenko and Ivan Zaytsev, Anastasia Soboleva and Victor Lebedev, Angelina Vorontsova and Ernest Latypov, Valeria Zapasnikova and Pavel Savin, and Anastasia Smirnova and Nikita Tchetverikov. Nikolay Tsiskaridze is among the guest stars, who fans can witness in the role of the charming Widow Simone in
La Fille mal gardée
on 16 and 17 September.
September's programme will delight opera lovers, too. On 18 September, the Mikhailovsky Theatre will present Russian psychological opera masterpiece
The Queen of Spades
. This timeless classic has graced our repertoire for decades, with this year marking its 40th anniversary. The multifaceted artistic world of Tchaikovsky's tragedy is stunning, as Herman is tormented by love and driven to madness by the game. A spectacular duet awaits guests on the evening of 18 September, with leading opera soloists Maria Litke and Fyodor Ataskevich in the main roles. The conductor is Alexander Soloviev.
On 23 September, last season's most memorable premiere —
The Oprichnik
, directed by Sergey Novikov — will again grace our stage. Barely a year old, the production has already been shortlisted for the prestigious Onegin National Opera Award, won the Golden Sofit, featured in the Arts Square international winter festival, and successfully toured in Moscow. On 23 September, the Theatre's Artistic Director Vladimir Kekhman will also take to the stage alongside the opera performers. His debut in the role of Ivan the Terrible in June was not only a spectacular theatrical move, but also marked the beginning of a new tradition.
On 27 September, the Theatre will stage
L'elisir d'amore
, Gaetano Donizetti's most popular opera by, which we recommend enjoying with the whole family. It is charming, elegant, and simple; full of delightful, playful melodies, light, and joy. And what a lineup! Adina is played by Svetlana Moskalenko, Nemorino by Boris Stepanov, and Belcore by Alexander Shakhov. Anton Petryaev takes the role of the loveable swindler Dulcamara, with Valentin Bogdanov conducting.
See you at the theatre's 190th season in September!