News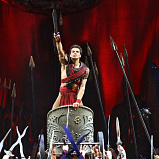 04.08.2022
Season opens
The Mikhailovsky Theatre opens its 190th season on 8 September. The first opera performance of this year's programme will be Giuseppe Verdi's
La traviata
. Staged in the best traditions of this Italian opera classic, the Mikhailovsky Theatre's production will feature true stars. On 8 September, Violetta will be played by the brilliant coloratura soprano Svetlana Moskalenko, with Sergey Kuzmin as Alfredo, and Boris Pinkhasovich — one of the most in-demand baritones in European opera — in the role of Germont. At the podium will be Principal Guest Conductor of the Mikhailovsky Theatre and Merited Artist of the Republic of North Ossetia Timur Zangiev.
The ballet season will open on 9 September with the iconic and provocative
Spartacus
. A whirlwind of lavish processions, powerful choral scenes, and gladiator battles, this legendary production from Georgy Kovtun will transport you from the centre of St. Petersburg straight to Imperial Rome. Soloists beloved by viewers in both capitals will feature in the leading roles. Spartacus will be played by Bolshoi Theatre Principal Dancer Igor Tsvirko, with People's Artist of Russia Farukh Ruzimatov as Pompeius, Valeria Zapasnikova as Valeria, and Irina Perren as Sabina.