News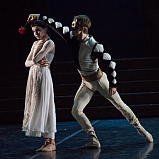 25.02.2014
Webcast of Romeo and Juliet
A live webcast of the ballet Romeo and Juliet from the Mikhailovsky Theatre will begin on 5 March at 19:00 MSK (GMT+4). The ballet has been nominated for the Golden Mask National Theatre Award in the Best Ballet category. The main roles will be performed by Natalia Osipova and Leonid Sarafanov, who are competing for, respectively, the Best Female Dancer and Best Male Dancer awards. At the conductor's podium will be Mikhail Tatarnikov, nominated for Best Conductor.
Thanks to the technological capabilities of the ParaClassics classical music portal, a live webcast, streamed in High Definition and instantly archived, will be available for viewing in all of Russia's nine time zones as well as around the world, to be enjoyed at one's convenience. The webcast can be accessed on computers and iOS devices (iPhone/iPad) at www.mikhailovsky.ru/en, www.eng.goldenmask.ru and www.paraclassics.com.
Prokofiev's ballet Romeo and Juliet, choreographed by Nacho Duato, premiered on 13 December 2012 and became one of the highlights of the season. Vedomosti proclaimed Romeo and Juliet to be the leading ballet on the Russian stage, remarking that in the production, "dance is the main, indeed the only, form of expression in Duato's staging", a sentiment which RBC Daily agreed with: "The dance, which contains acute lyrical moments, grotesque harlequin antics, heavy flirtation in the street, and sword fights, seems to stem from the depths of the crowd of townspeople."
Critics paid particular attention to those in the lead roles. Vedomosti enthused that "the world turned upside down when Natalia Osipova appeared as Juliet", adding that "she lights up the stage with her springboard leaps and her energy, which is enough to shake the metre-thick walls." According to Izvestia, Leonid Sarafanov as Romeo riveted the audiences with his "pitch-perfect performance". RBC Daily noted his "soft, almost feline, poise and refined grace."
The performance on 5 March is taking place as part of the Golden Mask Festival. All members of the National Theatre Award jury will be present.