News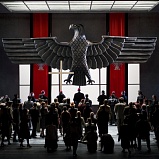 29.03.2018
Return of La Juive
La Juive
, one of the most popular nineteenth-century French operas, is returning to the Mikhailovsky Theatre. For a number of reasons, Jacques Fromental Halévy's composition was denied access to the Russian stage for many years, both before the Revolution and during the Soviet period. The Mikhailovsky Theatre's production of the opera in 2010 was a real discovery for theatregoers. The captivating dramatic theme, theatrical effects, and sparkling musical texture in combination with the distinctive concept of the production guaranteed its success. Following a two-year absence from the stage, maestro Dmitry Korchak has breathed new life into the production. The title role will be played by Tatiana Ryaguzova, for whom Rachel has always been a favourite role. As in the première, Eudoxie will be sung by Natalia Mironova. The principal male parts will be performed by Mikhail Agafonov (Eléazar), Sergey Kuzmin (Léopold), and Alexander Bezrukov (Cardinal Brogni).
La Juive
is considered to be the peak of Jacques Fromental Halévy's musical legacy. Halévy, who taught Georges Bizet and Charles Gounod, was the son of a cantor and had a good knowledge of the Catholic and Jewish cultures. It was the themes of religious fanaticism, mercy, and retribution in Eugène Scribe's libretto that attracted him. Eléazar, persecuted by Christians, brings up Rachel as his own daughter in the Jewish faith. Rachel falls in love with Léopold; he is a Christian, but for the sake of his beloved he passes himself off as a Jew. If the truth about their liaison is discovered, they will both face the threat of death. Their plan to elope is foiled. And in these dramatic circumstances, the problem of choice takes centre stage. For her lover's sake Rachel renounces all accusations against him, so condemning herself to death. Her father Eléazar can save her if he reveals her true parentage. But, confronted with a choice between the orthodox traditions of his faith and the life of his beloved daughter, he opts for the former. In fact Rachel is the Cardinal's daughter and through her death, Eléazar takes his revenge on her real father, to whom he reveals the truth at the last moment.
The action, which occurs, according to the libretto, in the Late Middle Ages, has been brought forward in this production to a mid-twentieth century totalitarian state in which the Jewish community is being persecuted. The heartless machine of repression is contrasted with a world of human emotions and subtle interpersonal relationships. This contrast assumes extra poignancy when the experience of generations who recognize the nature of totalitarianism is taken into account.