News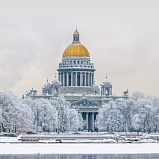 10.01.2020
Requiem: in memory of the victims of the siege
2020 has been officially designated the Year of Remembrance and Glory in Russia. There can be few more significant commemorative events leading up to the 75th anniversary of victory in the Great Patriotic War than the anniversary of the complete liberation of Leningrad from the Nazi siege. The Mikhailovsky Theatre will be remembering the victims of the siege with a performance of Verdi's
Messa da Requiem
on 28 January.
Sergey Novikov, whose idea the production was, calls the heroism of the people of Leningrad "an unparalleled example of self-sacrifice, strength of spirit, and national unity". With preparations underway for the first performance of his staged version of the
Requiem
in St. Petersburg, Novikov told us: "Those who heard this music at the rehearsal accompanied by excerpts from wartime newsreels had the impression that Verdi had composed the work about the siege." He continued: "As an artistic idea, it works. People left the theatre with the firm conviction that they should do all they could to oppose even a hypothetical return of fascist ideology." Sergey Novikov personally translated the Latin text of the
Requiem
into Russian so that its content would be accessible to a wider audience, enabling listeners to appreciate the profundity, power, and humanity of this great work.
"In Verdi's music there is not only terror and sorrow, but also humility, tenderness, and a plea for mercy," said Sergey Kuzmin, who sings the solo tenor part in the Requiem. "It is a work of incredible spiritual power, which plumbs the depths of the human soul. Its effect is measured not in decibels, but in energy and emotion."
The
Requiem
will be performed by the Mikhailovsky Theatre Orchestra and Chorus under Andrei Petrenko. The four soloists will be Anna Pegova, Olesya Petrova, Sergey Kuzmin, and Alexander Bezrukov.