News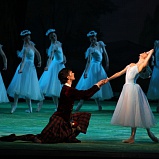 05.10.2016
"Rejuvenated, renewed, and full of vigour"
The ballet
La Sylphide
has a special history: having become one of the most legendary pieces of nineteenth-century theatre and established the romantic style in ballet for many decades, it had every chance of taking pride of place in the writings of art historians, while at the same time disappearing from the stage for ever. Luckily, things played out differently.
La Sylphide
premiered in Paris on 12 March 1832: a triumph for the ballerina Marie Taglioni in a production staged to showcase her talents by her father, choreographer Filippo Taglioni. The ballerina danced en pointe to portray the ethereal spirit of the air, a never-before-seen technique that amazed audiences. The heart-rending conflict of the ballet's hero was also met with understanding. By leaving his earthly bride for this illusory sprite and chasing after her into the spirit world, he shows how strongly the inner ego can oscillate between different extremes.
From Paris, where it had a run of more than 150 performances,
La Sylphide
went on to be staged at the best European theatres, including in St. Petersburg and Moscow. But the ballet slowly started to disappear from the stage in both France and Russia. Not even Marius Petipa's attempt to revive the ballet was able to significantly extend its stage life. But it was kept going almost continuously by the Royal Danish Ballet in Copenhagen, and it is thanks to this Scandinavian version that
La Sylphide
would be revived in the twentieth century.
The Danish version of
La Sylphide
was choreographed by August Bournonville, who was the principal choreographer at the Royal Danish Ballet from 1830 to 1877. In 1834, the choreographer went to Paris for two months, and was captivated by Marie Taglioni in
La Sylphide
. He bought the libretto before returning home and two years later had created his own production of
La Sylphide
in Denmark. Bournonville decided that rather than splashing out on Jean-Madeleine Schneitzhoeffer's original score, he would commission a new score from Norwegian composer Herman Løvenskiold. The Dane kept the dramatic outline of the French original but came up with his own choreographic text, stylistically similar to that of Taglioni.
La Sylphide
, which had been carefully preserved in Copenhagen, returned to France after World War II. Later, the French choreographer Pierre Lacotte would produce his own free fantasy based on the lost La Sylphide of Filippo Taglioni. Russia's reincarnation of
La Sylphide
came in 1975, when Oleg Vinogradov invited ballerina Elsa-Marianne von Rosen, a dancer well versed in the intricacies and nuances of Bournonville's style, to the Maly Opera and Ballet Theatre. Her diligent work led to
La Sylphide
returning to the Russian ballet repertoire. Writing in the newspaper Smena in 1975, Igor Stupnikov welcomed the arrival of the ballet at the Maly Opera Theatre: "
La Sylphide
first came to St. Petersburg in 1835, before disappearing from the Russian ballet repertoire for many years. Now it has come back to us rejuvenated, in many ways renewed, and full of vigour." Forty years on, the words of this respected Russian ballet critic are apt once again:
La Sylphide
is returning to the Mikhailovsky Theatre in November in a careful recreation by Mikhail Messerer.