News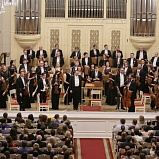 16.12.2019
Rachmaninoff's Russian voice
On 12 February the Mikhailovsky Theatre Symphony Orchestra and Chorus will give a concert in the Grand Hall of the St. Petersburg Philharmonia, conducted by maestro Alexander Vedernikov.
They will perform a programme of music by Sergey Rachmaninoff, including his
Three Russian Songs
for choir and orchestra, his cantata
Spring
for baritone, choir, and orchestra, and The Bells, a poem for soloists, choir, and orchestra. The soloists will be soprano Anastasia Moskvina, tenor Giorgi Sturua, and baritone Boris Pinkhasovich.
Sergei Rachmaninoff, one of the most important figures in the history of Russian classical music, inherited and continued the traditions of the St. Petersburg school of composition. All of the works to be featured in the concert were written while the composer was still in Russia and there is a vividly expressed national flavour in their emotional basis. Although The Bells is a setting of verses by Edgar Allan Poe, in Rachmaninoff's symphonic poem the verses "have taken on Russian flesh and blood".