News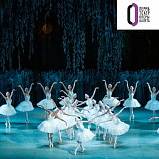 21.07.2022
Perm Opera and Ballet Theatre tour
From 14 to 26 August, the Perm Opera and Ballet Theatre will be performing on the Mikhailovsky Theatre stage. The ballet company — which enjoys a special connection with St. Petersburg traditions and has unique creative experience of performing Petipa's ballets and American neoclassical productions, as well as the latest in modern choreography — is preparing a series of performances of
Le Corsaire
,
Giselle
, and
Swan Lake
, as well as an evening of one-act ballets.
Vasily Medvedev's choreography of Le Corsaire, which opens the tour programme, has been staged in Perm to the original score by Adolphe Adam, which has been carefully preserved in the archives of the Paris Opera.
The staging of
Giselle
, a major revival of the 1959 production, is of particular significance for the company. It was
Giselle
in Petipa's iconic choreography that, in 1926, marked the first page in the history of the Perm Ballet. In 2008, the production was restored by Tatiana Legat of the legendary Legat ballet dynasty, heir to the truly age-old traditions of the imperial stage, who once worked at the Mikhailovsky Theatre.
The company's
Swan Lake
, revised by Alexey Miroshnichenko, not only retains canonical fragments from the choreography by Marius Petipa and Lev Ivanov, Alexander Gorsky, and Konstantin Sergeyev, but also adds new meanings to them. In this interpretation, the main character is Prince Siegfried, whose soul is hunted by the evil genius Von Rothbart. The production is exquisitely styled in the tradition of the grand ballets of the late nineteenth century. Even the tutus have been produced based on original designs.
The programme for the evening of one-act ballets includes Douglas Lee's
Snow Was Falling
, which won a Golden Mask Award, as well as two miniature ballets by the Perm company's Artistic Director, Anton Pimonov: the witty
Chansons gaillardes
to the music of the eponymous vocal cycle by Francis Poulenc, and
Concert No. 5
to the music of Sergei Prokofiev's Fifth Piano Concerto — a polyphonic dance composition that reveals unexpected choreographic accents in the music.