News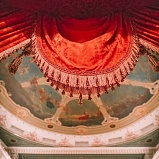 26.09.2019
Opera in the Digital Age
On 12 November, the Mikhailovsky Theatre will host a concert given by international opera stars.
This event will be the centrepiece of Digital Opera 2.0, a festival which aims to show how opera can interact with the world of digital technologies.
The gala concert will feature musicians who have sung in some of the world's top opera houses. Along with other opera hits, the Queen of the Night aria from
Die Zauberflöte
, which has become a symbol of vocal mastery, will be performed by the captivating soprano and Honoured Artist of Russia Albina Shagimuratova. Also performing will be coloratura soprano and soloist at the Wiener Staatsoper Valentina Naforniţa; soprano Tatiana Melnychenko, a pupil of Teresa Berganza; Italian tenor Riccardo Massi; and mezzo-soprano Olesya Petrova and baritone Boris Pinkhasovich, both soloists at the Mikhailovsky Theatre and winners of international competitions. The musicians will be accompanied by the Mikhailovsky Theatre symphony orchestra, conducted by Gintaras Rinkevičius.
The audience will have the opportunity not only to hear some exceptional bel canto masters, but also to find answers to the questions that our new reality poses to the traditional genre. Nowadays, the stimulus for young people to attend operas increasingly comes from the virtual world: after all, operas staged in a digital format are no longer a rarity. At the same time, viewers can now rapidly communicate their spontaneous reactions to directors, performers, and producers. Throughout opera's history, this kind of direct contact was impossible — and it now has the potential to exert a significant influence on artistic decision-making. There are also other aspects to this interaction, such as the appearance of multimedia technologies in opera: a step forward as important as pictorial set design or electric lighting once were, and a development that could have a major impact on aesthetic decisions. But the central question is this: will an audience that has been conditioned to multi-tasking by the reality of a life lived alongside computers allow opera to remain the same as it was in the pre-digital era?
Multimedia technologies will bring the concert hall to life, while the audience journey around the World Wide Web and find themselves inside a social network full of "Stories" from some of the world's most popular operas.