News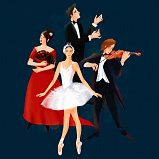 29.11.2021
New Year's celebrations at the Mikhailovsky Theatre
This New Year, the Mikhailovsky will host performances full of good cheer and imagination. Their sparkling melodies, magical transformations, and carefree antics will fill audiences with the holiday spirit that they are missing in their daily lives. The festive "Let it snow! Let it snow! Let it snow!" gala concert will provide a quintessential holiday atmosphere, and it is this event that will kick off our 2022 programme. This will be the perfect opportunity to spend a wonderful evening at the theatre with family and friends, and will ensure that your new year starts on a solid foundation for new successes and achievements.
The majority of the theatre's audience in early January is inevitably made up of children. Surely there can be no greater joy for a child who looks wide-eyed at the world around them than these vivid impressions and undisguised emotions. Our repertoire includes performances that are certain to delight young spectators: the ballets
Cinderella
,
Cipollino
,
The Nutcracker
, and
The Little Humpbacked Horse
. Older children will be entranced by pirate adventures in the ballet
Le Corsaire
or captivated by the story of Iolanta, a princess who meets a handsome knight in a blooming rose garden. For the performance of
Iolanta
on 5 January, we have chosen the more traditional of the two stage versions of Tchaikovsky's opera.
We warmly invite spectators to join us over the holiday season, and don't forget that young people aged 14 to 22 can use their Pushkin Card when purchasing their ticket.