News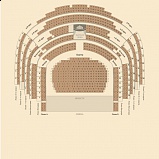 18.05.2017
New seating plan
Dear patrons,
For the upcoming season, we plan to alter the seating arrangements in the stalls, stalls circle, and dress circle. Seats, which will be installed in our auditorium, are notable for their comfort and their streamlined aesthetic: generous armrests, high backs, and footrests will guarantee maximum comfort for audiences during performances.
Changes to the seating plan will mainly affect the stalls, and to a minor extent, the stalls circle and dress circle.
The stalls will no longer have a central aisle, allowing audience members to appreciate visual perspectives previously only accessible from the Tsar's box.
The aisles will be located on the left and right sides of the auditorium, making it easier for visitors to reach their seats. The arrangement also has an aesthetic advantage, as the magnificent stucco work of the stalls circle boxes will be revealed to theatregoers.
The seats in the second row of the boxes in the stalls circle and dress circle will be moved higher up, significantly improving their view of the stage. These new seats will also be fitted with footrests for extra comfort. We are confident that the merits of the refurbished auditorium will delight our audiences.