News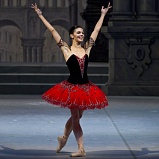 13.11.2020
Natalia Osipova. "Dance to Pierce the Heart"
Natalia Osipova, the ballerina who has conquered the best stages of the world, after a break will dance again at the Mikhailovsky Theatre. Every performance of hers is full of the emotions and energy now needed by the audiences more than ever. On 11 December, Natalia Osipova will star in the ballet
Cinderella
, on 16 December she will appear in
Don Quixote
.
Natalia Osipova is unique not only due to her amazing leaps and spectacular turns: she knows how to convey to the audience the happiness of the actor's dedication. Now, when her talent is combined with experience and maturity, acting culture and captivating femininity have added to the precious stage qualities of the ballerina.
The graduate of the Moscow State Academy of Choreography is impetuous and fearless, like a comet travelling through space. At the Bolshoi Theatre, she was promoted to principal in less than six seasons. Two seasons at the Mikhailovsky Theatre opened up new opportunities and broadened horizons for Natalia Osipova. She made her debuts as Odette/Odile in
Swan Lake
and as Laurencia. She appeared as a guest artist with companies around the world. In 2012, she became a principal of American Ballet Theatre, in 2013 — a principal of the Royal Ballet Covent Garden.
Her awards include Golden Masks (2008, 2009), Critics' Circle National Dance Awards (Best Female Dancer, 2007, 2010 and 2014), Positano Dance Awards (Best Female Dancer, 2008 and 2011) and a Benois de la Danse Award (Best Female Dancer, 2008).
"It is interesting to dance as if piercing the heart," Natalia Osipova said in an interview. In December, patrons of the Mikhailovsky Theatre will have a unique opportunity to meet again the incomparable artist who knows how to set incredible goals and achieve results.