News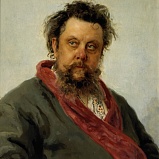 12.03.2019
Mussorgsky 180th anniversary exhibition
An exhibition marking the 180th anniversary of Mussorgsky's birth can be seen in the Fireplace Hall in the Dress Circle.
Reflections on Russian music invariably lead to its colossus, Modest Mussorgsky (1839-1881). A brilliant innovator who to a large extent determined the musical thinking of the 20th century, intonational structure and the development of musical drama, Mussorgsky always went his own way — sometimes strange, sometimes unexpected. Paradoxically, Mussorgsky never studied composition and was very proud of the fact. He considered the study of the past unnecessary and paid little attention to the rules of musical grammar, seeing in them "not scientific concepts, but simply a collection of composers' techniques from previous eras."
Mussorgsky's name can be found on five opera scores:
Boris Godunov
,
Khovanshchina
,
The Marriage
,
The Fair at Sorochyntsi
, and
Salammbô
. Three of these have become part of the history of the Maly Opera Theatre, which for the last thirty years has borne the great Russian composer's name. The exhibition introduces theatregoers to the original scenery, sketches and photographs of productions of
The Fair at Sorochyntsi
(1931, 1952),
Khovanshchina
(1988) and
Boris Godunov
(1939, 1987 and 2015). The history of these productions reveals the diverse past of the theatre. This anniversary also provides an excuse to remember the talented people involved in staging the operas of the colossus of Russian music.