News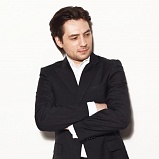 24.01.2018
Mikhail Tatarnikov on Lermontov and Rachmaninov
On 1 March in the Grand Hall of the Philharmonia, the Mikhailovsky Theatre Symphony Orchestra will perform music by Rachmaninov and Rimsky-Korsakov. The conductor will be Mikhail Tatarnikov. The maestro gave us his personal interpretation of the music in the Philharmonia's programme.
"At the St. Petersburg Conservatory, Rachmaninov's symphonic fantasia
The Rock
has a special place in the curriculum. It is the tradition for all kinds of students to take up this piece, and I also studied it during my student years. I first conducted it in Rotterdam during my debut performance with the Rotterdam Philharmonic Orchestra. The piece takes its name from a poem by Lermontov called 'The Rock', which starts with the famous couplet 'Through the night, a golden cloud lay sleeping / On the breast of a gigantic rock ledge.' But the link between the literature and the music is not as clear-cut here as in programme music, where the music illustrates and follows the word. The connection is more subtle and emotional. There is an affinity of mood: quiet melancholy, as I see it, is the common emotional seed from which Lermontov's and Rachmaninov's works grow together. There are other shades of emotion, like vulnerability and the inevitability of loss, and it is so important to capture and convey these subtle moods and connections through the music.
The intimacy between Rachmaninov and Lermontov's works, which to me is obvious, has another more subjective and very personal facet. I used to be interested in genealogy and I did some research into my family history. I remember once at school, when I was ten or eleven years old, I brought in a huge sheet of paper, more of a scroll really, on which I had attempted to depict all my known ancestors. It went back six or seven generations, and the class were extremely impressed, including the teacher. Lermontov was in this family tree. We know that he had no descendants or siblings; he was the last of his line. However, I am confident that his blood flows in my veins. My great-great-grandmother — I'd have to check the exact number of generations — was Lermontov's mother's sister. For obvious reasons, not many people in Russia can trace their family history back through the centuries. I am one of the lucky ones, and in a sense this concert gives me the opportunity to say this, for which I am grateful."b