News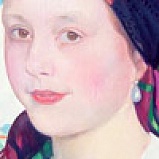 25.02.2011
Masterpieces at the Mikhailovsky
May 23rd, 29th, 31st and July, 7th
The Mikhailovsky Theatre and the KGallery are presenting temporary exhibition
Masterpieces at the Mikhailovsky Theatre
.
The exhibition is open in the left part of the dress circle lobby. The masterpieces presented within the framework of the project have never been on show in the Russian state museums.
Today the KGallery is proud to display such masterpieces as
Portrait of C.I. Benckendorff
by Vladimir Borovikovsky,
Girl with a Cup
(
Portrait of Maria Shostakovich
) by Boris Kustodiev,
Portrait of V.I. Lyubimova
by Konstantin Korovin.