News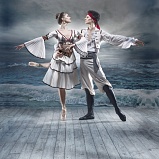 24.01.2019
Le Corsaire: Towards familiar shores
The ballet Le Corsaire, with revised choreography by Farukh Ruzimatov and set design by Valery Levental, is returning to the Mikhailovsky Theatre's repertoire. This fast-paced, vivid, and compact staging preserves the story and the romantic spirit of this vintage ballet, and painstakingly reproduces the most valuable fragments of the multi-layered choreographic text, which have survived to the present day.

Le Corsaire
is over 150 years old. Its complex history began in 1856, when it was premièred at the Paris Opera. Two years later, Jules Perrot staged the ballet on the Russian Imperial stage. Some time afterwards, Marius Petipa presented his own version of
Le Corsaire
; he would later return to the ballet several times, adding "innovations" and "improvements". In later years, the "freedom-loving corsairs" were able to be moulded, although not without detriment, to the aesthetics of the post-revolutionary era.
Farukh Ruzimatov's revised version was first shown in spring 2009, and was received warmly by the exacting St. Petersburg public. Exquisite classical dance is skilfully combined with hot-tempered fights; in the expressive mime scenes, there are no lengthy passages, but there is humour and the "taste of adventure".
After a break, the ballet is returning to the stage of the Mikhailovsky Theatre. Performances are planned for 14, 15, and 16 February. Among the dancers will be Ivan Vasilyev, Ivan Zaytsev, and Angelina Vorontsova. Leonid Sarafanov, who previously danced the "heroic" part of Conrad, will be making his debut as the slave trader, Lankedem. A technically difficult role, it is also a playful one. Tired of sea battles, this rogue tries his hand at commerce and sells captives on the slave market, deftly hiking up the price. Audiences will have the chance to see Sarafanov in the guise of a romantic prince and reflective intellectual on 14 February.