News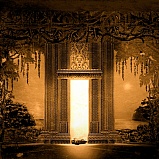 28.05.2019
La Bayadère by Nacho Duato
La Bayadère will become the first production of Nacho Duato on his return to St Petersburg. The Spanish choreographer has already worked on Russian golden ballet classics: his original versions of The Sleeping Beauty and The Nutcracker, created for the Mikhailovsky Theatre, were staged to great critical acclaim in many cities of the world — from Milan and Berlin to Novosibirsk.
Turning to La Bayadère, Nacho Duato has no intention either to renounce the music by Ludwig Minkus or to intrude into the iconic choreography that made the ballet a timeless hit. The famous Kingdom of Shades, as well as the grand pas classique of Act II, created by Marius Petipa and revised by the artists, who kept the legacy of the choreographer in the 20th century, will be kept intact. The aim of the Spanish choreographer is to convey all the twists and turns of the plot, making the action more dynamic. He is going to create a new setting for the ballet gem, introducing new character and ritual dances, recreating the flavor of India. On his new piece, the choreographer is working in cooperation with stage designer
Angelina Atlagić, whose scenery and costumes combine the luxury of the Maharajas and the high simplicity of the classics.
The première performances will be on
4, 5, 6 October
.