News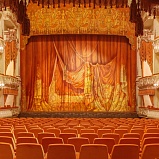 27.07.2018
In expectation of Iolanta
In this new production Andriy Zholdak seeks to highlight the inner light and beauty of the soul. The director made his opera debut on our stage only a few years ago. His
Eugene Onegin
provoked a storm among audiences and won an award at the prestigious Golden Mask festival.
The production remains part of our repertoire to this day, and its author, having tasted the operatic genre, now actively collaborates with the musical theatres of Europe. Zholdak's second project at the Mikhailovsky Theatre will be Tchaikovsky's
Iolanta
. The production is set to premiere on 13 November.
Tchaikovsky's last opera was inspired by a medieval French legend. Iolanta, the daughter of King René, has been blind since birth but is unaware of her misfortune. Surrounded by loving care, she lives a quiet, happy life in ignorance of her blindness until a young knight happens upon the castle.
What will it mean for the opera's young heroine when she finds herself able to see after falling in love and experiencing heartache? Will she be able to maintain her inner harmony after seeing the real world replace the one she had imagined? The changes that occur in Iolanta give the director the pretext to reflect on unity and the struggle of light and darkness in the world and in every human being.