News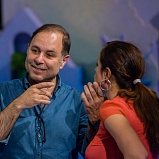 28.07.2017
Il barbiere di Siviglia to open the theatre's 185th season
Audiences love this Rossini opera, based on a story by Pierre-Augustin Caron de Beaumarchais, for its sparkling humour, melodic depth, quick action, abundance of comedic moments, and unexpected plot twists. In anticipation of the 100th anniversary of our opera company, which began its history performing none other than
Il barbiere di Siviglia
, the popular opera is returning to the theatre's repertoire in a new original production.
Gioachino Rossini's opera-buffa has been a regular fixture at the Mikhailovsky since 6 March 1918. Over this time, our stage has hosted seven different productions, and
Il barbiere di Siviglia
has been performed 1,009 times in total.
"Our deference to the glorious history of this theatre and our understanding of our audience's preferences have compelled us to take an extremely responsible approach to
Il barbiere di Siviglia
", says Vladimir Kekhman, Artistic Director of the Mikhailovsky Theatre. "I entrusted Eric Vigié, who is our friend and the Director of the Opéra de Lausanne, with creating a new stage version of this opera hit, because I know him to be a talented and intelligent director. Without distorting the material or reaching beyond the limits of good taste, he is able to find solutions which provide visual appeal and entertainment and really grab the audience's attention."
"This has been a very exciting start to my work at the Mikhailovsky", said Paata Burchuladze, Artistic Director of the Mikhailovsky Opera. "I got the chance to meet the company during our work together preparing a new production in which I would perform myself as a vocalist. I really enjoy the enthusiasm with which my colleagues approach our work on musical material together. We also pay a lot of attention to Italian style and the language, which are very important in recitatives. The producer and I also have a little surprise in store for the audience, but that will only be revealed on the day of the première."
"I have spent a lot of time in Spain", said stage director Eric Vigié. "In developing our production of
Il barbiere di Siviglia
, I decided to really try to get across the vibrant atmosphere of Seville to the St. Petersburg public, who live so far from this exuberant and passionate city: the bright landscapes, explosive character, national traditions, local colour, and even the madness that runs through Beaumarchais' trilogy. The buffoonery and the grotesque in Rossini's music is a perfect match for the eccentricities of this southern city, which plays a fully-fledged role in the events. Our reading of the story emphasizes the transformation of the heroine, and how she becomes a real Spanish diva, reminiscent of Pedro Almodóvar's films."
The première of
Il barbiere di Siviglia
is being prepared by the production's conductor and musical director, Mikhail Tatarnikov, stage director and costume designer Eric Vigié, and stage designer Emmanuelle Favre.