News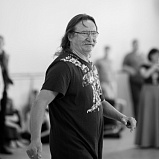 24.07.2018
Georgy Kovtun: "That's the kind of artist I am"
Aram Khachaturian's legendary ballet Spartacus will open the upcoming 186th season. Choreographer Georgy Kovtun showcased his production on our stage 10 years ago. His take on the new version of Spartacus is that of a true artist: he seeks out dramatic angles and bright colours. The choreographer talked about the rebirth of the ballet during a break between rehearsals.
I used to draw with pastels, which, of course, can also be incredibly expressive, but now I paint with oil.
Spartacus
is returning with some significant changes. Some artists just keep painting the same picture, but a true artist always reexamines their works.
When a child is born and you let him out into the world, it's always wonderful to see him take his first steps. But sometimes children get sick and end up in hospital. It can take a long time for them to get well. The child slowly gets back on his feet. While he was sick, his muscles may have atrophied, so the doctors have to get them back into shape. You have to make sure he exercises and check how often he eats. That's how it is with
Spartacus
: I can see the things about it that I'm not satisfied with. The world never stops; it's always speeding into the future. The performance needs to change, but its basic structure stays the same. It's what's inside that changes.
There will be many revised scenes, new fights, and new circus tricks. I have made the technical aspect much more complex. There are real stunt fights. I have staged a lot of fights for movies, but in cinema one piece of action can be shot by five cameras from different angles, slowed down, sped up, and edited. Here, however, there is one view, and it should be as spectacular as possible. In a film you can reshoot a take, but here a misstep or error can cast doubt on the entire scene. That puts a lot of responsibility on the dancers. I'm sure that there's no more complicated ballet anywhere.
Over the last decade, the Mikhailovsky Theatre company has changed, this means it has a different tone, different material. The stars we have dancing here today have no equals in any theatre in the world. Working with them is a joy and a delight. And that applies to the earlier generation that danced in the previous version, too. They're like paints that draw their own picture for you. There are some paints that need to be diluted, or something needs to be added to them or mixed in with them, but here everything's all ready.
My choreography is hard work for artists: both women and men. But this is really a male-oriented production. I always joke that
Spartacus
is a punishment for male dancers, because in most ballets women dance the second and third acts and the men go home. But here everyone dances from the beginning of the first act to the last note. And, of course, it is a tribute to the masters of Russian male ballet. I would hope very much that the national school of male dance does not die out and will continue its path. I think our production will contribute to this. It has the most difficult partnering, overhead lifts, something that modern choreographers do not use. All modern choreography exists at the level of the shoulder and the waist.
Spartacus
has throw lifts, something that has been lost to some extent, even in Russian ballet.
All these difficulties pose a challenge for an artist, empowering him. A person can't rest on their laurels, they have to push themselves to get better and better. When a dancer faces difficulties, he shows his true nature and tells the world with pride "I can do it, I can complete difficult feats, I can throw a woman and she will feel confident in my arms." After all, they are all afraid at first; this is natural, but then the moment comes when they can do it without even thinking about it. Everyone has a passion that needs to be stirred, and I push the dancers in a lot of ways. After that, they know how to fly.
At the beginning of the rehearsals we decided what to keep and what to change. Our main répétiteur Evgenia Kostyleva is helping me to reconstruct many of the original scenes, and I'm just adding a bit of a shine. Sometimes I correct something, and then slyly take all the credit... I'm kidding, of course. If I feel everything is fine I can just allow myself to be happy for the dancers. This is quite the survival training. And if the return of
Spartacus
doesn't kill them — and I don't think it will — then they will be even stronger and will move on to another school. After all, they work different muscles here, different brush strokes. That's the kind of artist I am.