News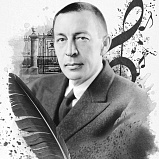 26.04.2023
Gala concert to celebrate Rachmaninoff's 150th birthday
This year, the 150th anniversary of Sergei Rachmaninoff's birth will be celebrated around the world, and the Mikhailovsky Theatre is no exception. On 29 May, we will be paying homage to this great composer with a star-studded evening of opera and ballet. Our audience will be gifted a rare opportunity to enjoy Rachmaninoff's extraordinarily multifaceted talent, as well as a chance to see some of their favourite performers from St. Petersburg and Moscow come together on the stage. The occasion will feature performances from principals and soloists of the Mikhailovsky Ballet, namely Irina Perren, Anastasia Soboleva, Marat Shemiunov, and Mikhail Batalov. They will be joined by Maria Alexandrova and Bolshoi Ballet soloists Kristina Kretova, Denis Savin, and Vladislav Lantratov. The leading voices of the Mikhailovsky Opera — soprano Svetlana Moskalenko, tenor Sergey Kuzmin, and baritone Boris Pinkhasovich — will also appear.
The chance to bring Rachmaninoff's music to life during this anniversary year is something that musicians everywhere are looking forward to and preparing for with particular passion and dedication. The Mikhailovsky Theatre Orchestra and Choir, conducted by Alexander Soloviev, will present the public with a unique programme, bringing together a wide variety of compositions taken from both the Russian and American periods of Rachmaninoff's creative career. These will include the famous Études-Tableaux composed by Rachmaninoff before he left Russia and reflecting the terrifying nature of the extreme upheavals that accompanied the composer during those years of trial. Their astounding depth and sense of drama will then give way to the bright and ethereal Vocalise. Guests will be treated to Rachmaninoff's Piano Concerto No. 2, his Russian Song and Spring Cantata, and romances including the mesmerizingly beautiful Sing not, O lovely one, How peaceful, Lilacs, and others.
We look forward to seeing you at the Mikhailovsky Theatre on 29 May! Tickets to the gala concert are available on the website, at our box office, and at our partners' box offices.