News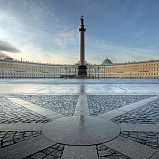 19.05.2014
Gala concert on Palace Square
On the evening of 25 May, the Mikhailovsky Theatre Symphony Orchestra, conducted by Mikhail Tatarnikov, will be performing on Palace Square as part of a gala concert in celebration of St. Petersburg City Day. Of the many events put on to mark St. Petersburg's birthday, this celebration of classical art is bound to be one of the stand-out occasions and most memorable evenings.
The gala concert will see operatic performances from eminent, internationally renowned solo artists, including Latvian singer Elīna Garanča. This acclaimed star of the music world, who has enchanted audiences with her wonderful mezzo soprano voice at some of the world's greatest opera houses, will be making her debut appearance in St. Petersburg at the concert. Guests at the celebrations on Palace Square will have the opportunity to enjoy her beautiful voice and appreciate her musicality and theatrical talent.
Other outstanding singers set to perform alongside the Mikhailovsky Theatre Orchestra include the famous Italian tenor Massimo Giordano; bass Ildar Abdrazakov, a St. Petersburg favourite; baritone Vasily Ladyuk; Ukrainian tenor Dmytro Popov; and three magnificent sopranos: Hibla Gerzmava, Veronika Dzhioeva, and Oxana Shilova. Of particular note will be a performance by the young virtuoso violinist from St. Petersburg, Sergey Dogadin.
Vocal and orchestral performances will be interspersed with large choral numbers by an open choir of St. Petersburg artists and choreographed numbers by the Eifman Ballet. The 'Dance on Wheels' sports club will present the wheelchair dancers who left crowds speechless with amazement during the opening ceremony of the Paralympics. Another high point of the concert will be a performance by the Spanish ballet collective Entredos Ballet Español.
The exceptional architectural ensemble of Palace Square and the facade of the Winter Palace will provide an authentic backdrop for the evening. The concert starts at 21:00. Entry is free of charge.
The concert will be filmed and broadcast by the TV channel Mezzo.