News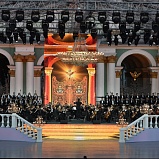 15.05.2019
Festival of classics on Palace Square
On 26 May, a gala concert entitled
Classics on Palace Square
will be held in honour of St. Petersburg's anniversary. As a long-established tradition dictates, the Mikhailovsky Theatre Symphony Orchestra will be accompanying the triumphant classical art in the very heart of the city.
This year, a true all-star team will be performing for the residents of St. Petersburg and guests of the city, headed by People's Artist of Russia Anna Netrebko. During this festive evening, the famous soprano, adored throughout the world, will be appearing on stage with her husband Yusif Eyvazov. Other musicians set to congratulate St. Petersburg on its anniversary include the brilliant Cuban soprano Maria Aleida, the Italian soprano of Kazakh descent Maria Mudryak, Mariinsky Theatre mezzo-soprano soloist Ekaterina Sergeeva, American tenor René Barbera, the charismatic Mexican tenor Arturo Chacón Cruz, and our compatriot Alexey Lavrov, the baritone who has won hearts in opera houses worldwide.
Festival guests will be treated to opera classics as well as works by jazz masters and contemporary composers, with music by Verdi, Donizetti, Ruggero Leoncavallo, Dvořák, Offenbach, Nat King Cole, Lucio Dalla, and Igor Krutoy.
Wielding the baton on this magical evening will be Mikhail Tatarnikov. "There's nothing better than turning to the audience after a two-hour concert and seeing the main square of your home town full of people. It's an unusual and very inspiring feeling," says the conductor, who has previously performed on Palace Square on a number of occasions.