News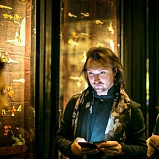 21.04.2017
European Orientalism at Tsarskoe Selo
The eagerly anticipated première of the opera
Mozart. The Marriage of Figaro
will take place in May. The director, Vyacheslav Starodubstev, drew inspiration for his production from a style which was fashionable in Europe in the late eighteenth century: Chinoiserie. This word, borrowed from French, refers to European works of art inspired by the Far East.
To immerse themselves in the spirit of this age the performers, accompanied by Starodubstev, visited the Catherine Palace at Tsarskoe Selo, which has one of the most interesting collections of Chinoiserie.
Jesuit missionaries, who travelled to the Far East to spread Christianity, wrote of the lives of the people in this distant, exotic land. These reports, and the souvenirs they brought back with them to Europe, were the source of a new fashion for oriental motifs. In the eighteenth century, embroidered Chinese silk wall hangings, porcelain, and Coromandel lacquer were all popular decorations in the homes of the nobility in Europe and Russia. Yet Europeans at the time were often ignorant of the subtleties of the philosophy which formed the foundation of Chinese art. The distinctions between Chinese and Japanese art were often blurred. European artists depicted the mythical dragons of the Far East with wings, and white — the colour which symbolizes mourning in the Far East — was prominent in paintings of joyous occasions.
Following a fascinating talk by Marina Lebedinskaya, a researcher at the museum, the performers recognized elements of the scenery and costumes for the forthcoming production among the works of art in the museum. The director remarked that he discovered certain motifs at the museum which he had already intuitively incorporated into his production.
The Mikhailovsky Theatre would like to thank the Tsarskoe Selo museum and archive for this introduction to the amazing world of the 'European Orient' and for the unique opportunity to access the closed archives of the museum's collection.