News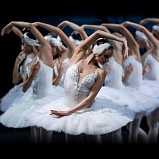 19.02.2019
Ekaterina Borchenko: "I really missed the stage"
The Mikhailovsky Theatre playbill once again features Honoured Artist of Russia Ekaterina Borchenko, following the ballerina's return to the stage after taking a break to have her children. She is now the mother of twins, a boy and a girl — making the flawless proportions and elegant lines of this 'ideal classical dancer', as Ekaterina is often described, all the more impressive.
"My children are seven months old now. My mum is helping out; she babysits while I'm at the theatre. This is my mum's second set of twins: my brother and I were her first. They say it's supposed to skip a generation, so it should have been my children who had twins, but for some reason we ended up with two sets in a row. My children are now the third pair of twins in our family: my grandad was the first. I wanted to give the children unusual names which sounded similar, so I called my son Daniel and my daughter Adele.
I really missed work and being on stage, and tried so hard to get back in shape, slim down, and regain my strength as fast as I could. Two weeks after giving birth, I was already back in the studio. It was incredibly difficult and painful, obviously, and my body didn't want to cooperate. It felt on the verge of breaking; it was putting up a fight and refusing to do what I wanted it to, but I kept going. By the time the children were three months old, I'd already danced the whole of
Swan Lake
at the Hermitage Theatre. Before I returned to the Mikhailovsky stage, I'd danced in a lot of productions at various venues and been on tour in Italy, so I came back to the Mikhailovsky confident about the level I was performing at, which is very important to me. I went straight back into
Swan Lake
. I do think it's my best ballet. I was dancing with an excellent partner, Ernest Latypov. I was pleasantly surprised: he's so young, but very experienced and sensitive, so it's easy to work and train with him.
Sometimes preparing for a production is more engaging than actually performing it. I really enjoy the creative process: talking to your partners, rehearsing. Having a goal to work towards is always a pleasure, especially when you have the sense that you're working together, when everyone's trying hard and helping each other out. When I was pregnant with my children, I really missed the atmosphere of the theatre, my colleagues, my favourite teacher Tatiana Legat, and Mikhail Messerer. It really brought home to me just how much I love the theatre. Since I had a lot of spare time, I watched recordings, particularly recordings of productions I appeared in, and I did a lot of analysis. I thought about what I should change and where, and about what direction to go in. I actually did a lot of work on myself, mostly psychological work, and now I find going out on stage easier.
Le Corsaire
will be a high priority for me now I'm back. The two versions of
Le Corsaire
we perform at the Mikhailovsky are so different you can't really compare them. Farukh Ruzimatov's version is more energetic, but there's less material for the ballerina. Mikhail Messerer's version is a marathon for the ballerina; it's a really difficult ballet with a lot of beautiful adagios, and requires incredible physical effort. I absolutely love dramatic roles and productions which involve a lot of acting, like
Giselle
or
La Bayadère
.
I find it hard to imagine my children doing ballet right now. It will all depend on what they want, but for some reason I have the feeling that they're not going to have a particular gift for it. They're at an age where it's difficult to make predictions, but I've had a look at their feet and insteps. Daniel's such a chubby little thing; when my friends come round, they say he looks a year old already. He's a very big boy. Adele is sort of compact, much smaller. I'm so grateful to my parents for their help. Our profession really teaches us discipline; you're constantly having to deal with fatigue, pain, and emotional overload. When you have twins, you're already prepared for that fatigue and workload. We know it's hard, but for us, that's life."